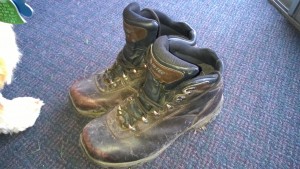 These are my favorite warm weather hiking boots.  Typical of most hiking boots…made of leather, non-insulated, no gore-tex or other lining…just leather boots with a good sole and comfortable.  The only problem I have with them is they are not waterproof and so with all the rain of late, every time I go turkey hunting my feet get soaking wet and then it takes at least two days to dry them out.  So, I went onto a group site I'm a member of on Facebook and I asked them what they use for waterproofing their boots.
The answers came back in all forms…don't own leather boots…Use Hubards leather dressing…buy Gore-tex boots….Use Sno-Seal…and more, but one comment that came back and made my eye brows raise was….Get a wax ring, one that is used to seal a toilet and spread that on the boots!  WELL NOW!  I think I even have a wax seal out in the garage.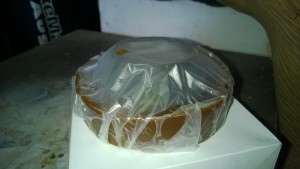 I commented back to that guy that I would be trying his idea and see how well it worked.  I have not commented back to that thread yet and so you are going to see and hear the results right here on Bears Butt dot Com!
His suggestion was to clean the boots off and put them in the oven until the leather reached 200 degrees!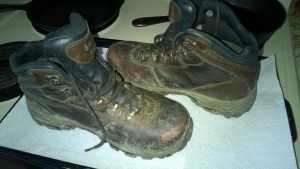 I placed some napkins on a cookie sheet and placed the boots on top of it.  Then popped them into the oven…oven temp set at 200.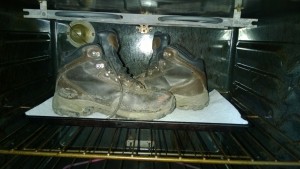 These boots have been getting a real beating on this years turkey hunts.  The mud and wet grass makes it seem like you are hunting in a river bottom and not on a mountain.  It has the stickiest mud of anywhere I've hunted…but I keep going back.
Once the boots were heated a good deal of time, I took them out and began smearing the wax on them.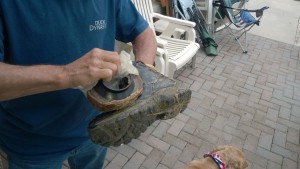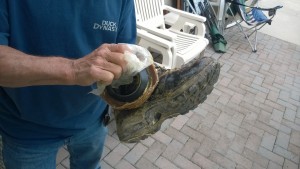 The warm leather had that wax melting in and around the leather like crazy.  I was not being fussy about how they looked either.  Just get that wax on there!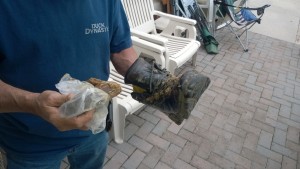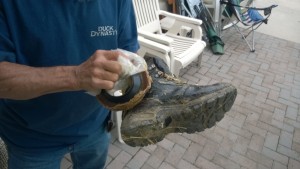 They guy said that once the wax was put on the boot, to put them back into the oven and re-heat them back to 200 degrees.  That will help the wax melt and soak into the leather.  OK, let's do that!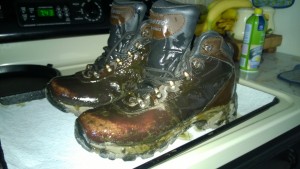 I let them stay in the 200 degree oven for about 15 minutes to allow the wax to really get soaked into the leather.  The guy then said to wipe off the excess wax once the boots came out of the oven.  I decided I was not in this for a fashion statement!  I'm in it to have dry feet!  And so I left the excess wax hang on the boots!
They look like crap!
Well, how did it work?
We went turkey hunting yesterday.  It was raining like cats and dogs and so we chose not to venture out into the rain but goofed around until the rain had stopped before going off hiking.  We hiked in muddy mud, wet grass up to our knees, slipped and slid around for about 3 hours and when I got home, my pants were very wet and muddy, my boots were muddy like crazy, but my feet were very much DRY!
Here is what the boots look like this morning: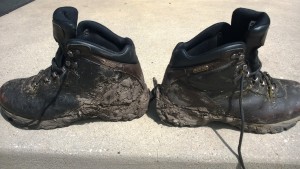 I'm sold on this way of waterproofing my boots from here on out.  A toilet bowl wax ring costs less than $2 at most hardware stores and after using this method and having dry feet, it sure as heck beats buying a $5 to $10 can of spray on junk that only smells bad and doesn't do the job!  Yes sir!  I can hardly wait to see just how many times I can venture out into the wet and still have dry feet.  It just seems natural that the wax should have penetrated the leather and maybe, just maybe I will never have to waterproof them again!
Oh yes, and look what I just saw on my boot:
Whatever Dri-Tex is, it doesn't work folks!
Bears Butt
May 24, 2015
UPDATE:
That waterproofing has lasted through all the hunting seasons, work sessions on the farm and general use.  Today I had to clean some mud off the boots because Sherry wouldn't let me walk in the house with them looking the way they were.  So, while I was at it I decided to put another coat of wax on them.  Following the same instructions as above, I now have them coated again with wax.  They were still water proof from last May's application, but it was time to coat them again…turkey season is just around the corner!
Folks!  You have just got to give this a try!
Bears Butt
March 10, 2016