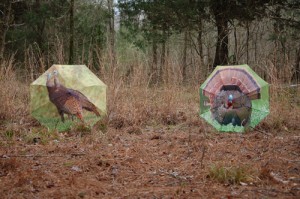 70% chance of rain today!  But is that going to stop 3 dedicated (insane) turkey hunters?  I think not!  Kenzie, Weasel and I will be out in the wet woods trying once again to fool the elusive birds!  We just need 3 bearded bad boys to come close enough for some number 5's and 6's to take off their heads….that isn't asking much is it?
With this threat of rain most people will stay home, which is good, because it's Saturday, when most are able to play.  Let's hope they do stay home.  We figure the birds are going to be doing their usual routine and we will be there to interrupt it.
Again we have a plan.  I have made some cardboard cutouts of us and painted them to look real.  Mine looks like a hunter sitting on the ground aiming his shotgun.  Weasels is sitting in a tree stand aiming his shotgun and Kenzies is standing next to the trail looking pretty.  We will place these in strategic spots around the area with the decoys and then we will go and hide somewhere else.  The birds will think the paintings are us and stay away.  We will ambush them as they run from the paintings.
Well, that was in my dream.  So far, it seems no matter where we set up the birds know it and go somewhere else.  I don't get it.  So, we are leaving the decoys home and keeping the calls in the box.  Today is just plain, set up and hope they come along.  They have heard so many calls by now they know that noise to be danger.  In that respect, if someone does venture out in this rain today, I hope they bring their full entourage of calls and calling knowledge….sing it…."The Hills are alive, with the sounds of calling!!!   The turkeys can hear and they come to me!"  (Sounds like a Sir Butt song to me).
Late season turkey hunting calls for patience and good luck.  The reading on the web says the males are mostly all lonely and in groups, while the hens are on the nest making new turkeys.  If that's the case, if we see one, we will likely see more than one!  Bring on the big bearded bad boys!  Will this, the eighth day afield, be the day?
More to come later!  Hopefully with pictures!  Wet feathers will have never smelled so good!
Bears Butt
May 16, 2015
UPDATE:
It's 11 a.m. and I am home.  I left Weasel and Kenzie in the blind…they were warm and dry…I was wet and cold!  But that wasn't the reason I came home, I have to go to a piano recital for Sydney in Logan today.  So, I had to call it a morning of hunting and come home to clean up.
The morning dawned quite cool compared to what we have had for morning temps.  You could see your breath.  The breeze was very slight but you could see clouds floating above that looked like they were carrying some good rain.  When 6 a.m. arrived it was obvious the birds were off their usual routine.  It was quiet in the hills all around us.  At about 6:15 I heard the first gobble of the morning….WAYYYYYY up the hill from us.  And then another in that same area.  And then one a little closer but still not where they have been lately.  This was going to be a great day.  I figured they would come down our way once they flew from the trees.
As I was sitting there anticipating the fly down a single hen swooped in from my right and landed about 20 yards in front of me!  My heart raced to think there would be an onslaught of birds gathering in front of me!  I was up and on the shotgun, safety off and swung over to the hen, hoping I would see a beard.  She walked in behind a bush and then reappeared to my left and about 10 yards away.  She had no clue I was anywhere around.  No beard, no shoot.  I kept the gun up until she walked completely out of sight, then held it 30 seconds longer to make sure she would not see me lower it.  All went well.  Still hoping for more birds to drop into this zone, my heart was still pumping hard.  But after about a half hour I gave up on that idea.
In the meantime the gobbling continued up the hill and even though they were getting closer to me, I knew they would stay high on the hill and skirt around the trees above us.
So, there I sat when the first rain drops began to fall, and then the second wave of raindrops fell, and then the third and when that started it didn't quit!  In fact I can look outside right now and still see the third wave falling!  I sat in that downpour for two solid hours hoping and waiting for the turkeys to appear in front of me…nothing.  Even the few birds that had been chirping quit making any sounds.  I did hear a deer snorting behind me and later Weasel said it was two bucks that had caught my scent.  He also said he saw 6 gobblers go over the hill behind me.  Those were the ones I could hear gobbling earlier.
Well, I left Weasel and Kenzie in the blind like I said.  They were going to continue to sit there in hopes of the 6 gobblers coming down and around the backside of the hill they were on and into their waiting gun sights.  I hope that happens.
On my drive home, the fog was so thick near the top of the pass I had to turn my lights on just to see in front of the car and that was at 9:30.  The fog stayed thick until I was almost to the bottom of the hill on the other side of the mountain!  Cold and rainy wet, I had to strip down in the garage before entering the house.
Turkeys 8, hunters zero!
Bears Butt