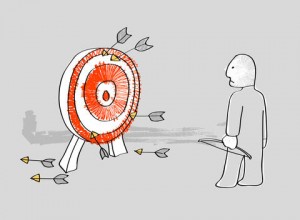 Chris Barton posted up a video today about some really good Olympic type recurve bow shooters who were asked to take off their sights and stabilizers and shoot a few shots at a target about 35 yards down range.  The target was about twice as big as the one I'm shooting at down at the field.  Well, of the three shooters, only one hit the yellow part of the target and the other guys missed the whole dang thing a time or two.  I guess when you decide to shoot without sights and get good enough to hit the target then you are doing something.  Well, in my eyes at least.
So, with that little bit of incentive, plus the fact that I'm feeling pretty good about my age and health, plus having to take a trailer load of tree branches to the field, PLUS having to check the water on the fields, I told Winemaker I was going to take my bow and do a little practicing.   Which I did.
So, after getting all the other stuff done that I had to do, I set up in the usual place to do my practicing.  Starting first with my Gap Shooting.  Things went differently today.  My last couple of times gap shooting had Point On at 45 yards.  Today that happened at 40 yards.  HMMMMM.  Not sure what is going on, everything else seemed to be the same.  OH WELL.  It will average out.
So, back to my 20 yard shooting.  I have not been down there for over a week, May 5 to be exact.  And so, I started off rather rough.  I'll tell you folks, practice needs to come often or you will lose where you were at.  Today proved that to me quickly.  But after several ends of shooting all 8 of my arrows my groups started to tighten up.  I told my faithful dog "This is my last end, buddy and then we will go home".  He was tethered to the truck.
So, as I was finishing up my end of 8 arrows, here came Weasel to shoot his bow.  I finished shooting and then asked him to come down and see the results of my last group of shots!  He was impressed.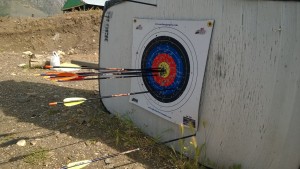 Hell!  I WAS IMPRESSED!
Sure there are two arrows that didn't even hit the target backing, but then there are 3 in the yellow, one in the red and one in the blue and one in the white!  That was a good spot to stop my practice for the day.  Probably 120 arrows in today shooting!  I didn't count the ends I shot.  And by the way 2 of those yellows are X's!!!!!
I think I'm getting the hang of this stuff!
Bears Butt
May 13, 2015