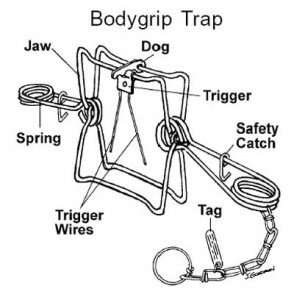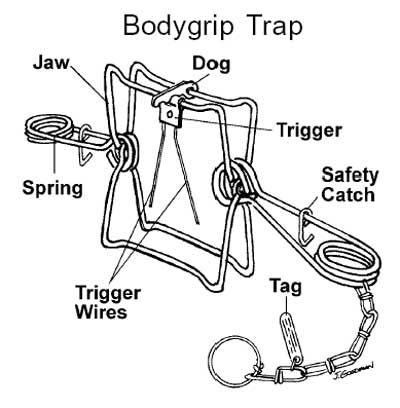 Today marks the end of the trapping season for 2015.  Bob and I will be pulling all our traps and then we have shed work to finish up with.  100 rats lay in wait for fleshing and stretching.  Today I also get the pleasure of meeting someone I've been providing carcasses to for the last couple of months.  This guy owns Bones N Beasts Taxidermy and uses the carcasses to keep his flesh eating beetles alive (enter nightmares about that).  He sent me a picture of one of his beetle colonies…..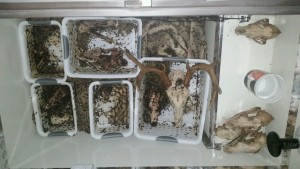 I'm sure they are in a place that they could do no harm should they escape, but in my dreams they can and do get out in large numbers and roam the house looking for sleeping members to devour.  He hasn't counted his beetles and so his guesstimate is several thousand….creepy.
So, this morning I'll head out to Doris' pond and pull the 5 traps I set yesterday, I don't expect to catch any rats out there.  Then on in closer to pull the remaining 57 traps.  It is sort of a sad day in one way, but on another note I won't be spending gas money and wear and tear on the vehicle(s) chasing rats that don't exist.
More to come on the daily happenings when I get back!
Bears Butt
March 13, 2015    (Friday the 13th)
UPDATE:
Well the trapping season is officially over….I ended up with one rat (a run of one) and Bob ended with 5 rats.  Not bad for the season.  And with Weasels rats from the farm pond of 5, a total of 515 rats for the season!
We would like to thank our sponsors…..uhhhh….
Well, we would like to have sponsors like, Victor traps, Conibear traps, Chevron Gas, Chevrolet, Yamaha ATV, Toyota, Bobs Floats, Willow stakes, Water Proof boots, Gauntlet gloves, Sharp knives, Mak'em good stretchers, Shed warm heaters and humidifiers, Olympia and Keystone brewers and a host of other sponsors.  You too could join the team…just send cash, check or money orders to……please respond in the comments below and I'll get back with you!  Any amount will be gladly accepted and remember….It ain't tax deferred.
Thanks for following the 2015 trapping stories!  Watch out for next years events…God Willing!
Bears Butt