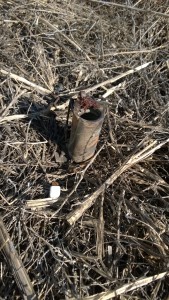 These dog proof (DP) traps are the latest craze among raccoon trappers these days.  They have a lot of benefit in only capturing the targeted animal and no domestic animals get caught in them.  With me, nothing gets caught in them.
I have followed all the instructions I have been given and even placed a walnut on top and in the hole to prevent the rodents from getting in and eating the bait before the raccoons come along. Yesterday I checked the traps, fully expecting to find at least one raccoon in one of the traps….nothing.  At the first DP trap, the walnut was gone….all the bait was eaten and nothing in the trap.  DP number 2….same thing.  DP number 3 the walnut was laying next to the trap and all bait was gone.
Had I been the one to invent this "piece of equipment" (saying it lightly), I would be taking it out of the field and replacing it with a good old leg hold trap.  But, I am not the one who invented it and I will continue to employ it in my arsenal and continue to catch the very critter(s) who stole about 25 rats from me this season.
Today is sort of a day of relaxation on the line.  I set all the traps I have places for out on Big Spring yesterday and today is just a "check them" day.  I actually got to sleep in a whole hour longer than usual.  I will lazily finish my tasks at home before heading out to the trap line.  A wonderful day is expected weather wise with a high near 60!  Clear blue skies and no wind.  A very good day to be outside enjoying nature.
Expected catch today is 15 rats.  Raccoons will come when ever they decide.  I'm giving up predicting catching them.
Bears Butt
March 6, 2015
UPDATE:
Regardless of my in-ability to catch coons with dog proof traps, Bob gave me the three he was using and I set them as well.  I've taken the walnuts and pressed them down into the tube of the trap in hopes of keeping the rodents from getting to the bait.  If a coon comes along they will work it until they get it off.  We will see.
A beautiful day out in the swamp today.  Lots and lots of wildlife, mostly waterfowl.  Snow Geese, Dark Geese, Swans, Ducks of every kind.  Eagles, Hawks….they are all out there.  Pretty cool place.
Rats….Me 13, Bob 3.  A match to yesterdays catch!  We will take it!
Butt