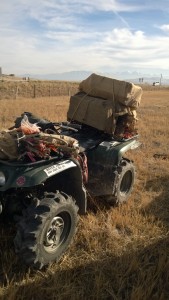 The old toy horse is going to be loaded down this morning.  Yesterday was going to be my day to set a bunch of traps…..and then the snow came and spoiled it all.  The day wasn't wasted in my mind as I did get something made I have been thinking about for awhile.  But no traps were put out and now I have to make up for it.  My plan is to set traps early and check the line later.  Depending on how many I get set I also plan to pull the top part of the Big Spring line….it's dead.  I also expect to have problems finding my sets because the snow will have pushed my flags down into the brush and it will be harder to find them.
What I expect today:
21 new traps and two nights to fill up, I should get 10 rats out of them.  The rest of the line might produce one rat but I'm not counting on that.  Add one raccoon to the mix and there you have what I expect to catch.
I am also going to try the walnut over the opening on the dog proof traps idea!
Later!
Bears Butt
March 4, 2015
UPDATE:
Who's butt is kicked is MINE!
Set just over 20 traps and pulled nearly that many.  Still quite a number to pull (move).  I'll do that tomorrow.
And to top off the day….only 6 rats!  Bummer!  But Bob caught 5!  That gives us an 11 rat day!  We'll take it!
Butt