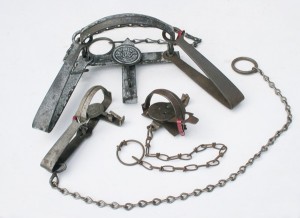 Guess what time it is?  Trapping time!
Today I'm heading out to see what is in store.  I talked to Bob the other day and he assured me things will be much different this year.  No ice!  If you recall I am usually chasing the ice as I set traps.  By that I mean I set traps from the head water out to a point the ice has things closed up and then as the ice melts off (days later) I continue to move traps out and out and out until such time as it is time to move my whole setup to another drainage.  This year there is no ice anywhere and so, I'll be able to set traps to my hearts content and then move them whenever I want.
So, that is the positive thing about the trapping this year.
On the negative side is the fact that the run has already begun!  That is not a good thing.  The weather has them thinking it is time to mate and that means we will be seeing a lot of damaged fur right off the get go.  It also means the raccoons will be out in force and we will lose some rats and a trap or two to those stinking little critters.  But, that is the life of a trapper.
Bob has been trapping since October and most of the time his traps have been frozen in.  They are thawed out now and he has a total of just over 70 rats.  The last couple of days have been the best he has had so far.  I know he caught 14 the day I talked to him and I don't know how many he caught yesterday, I suspect at least 14.  He has a doctors appointment today and so he won't be trapping until tomorrow.
This will be quite a week.  Between trapping, archery and a trip to SLC on Friday, it will be a week to remember.  Oh I almost forgot, I have to stop by the tax person's place and sign my tax forms.  I'll do that on my way home from the trap line.
I'm really glad the trapping season is on as my belly is sticking out farther than it has ever stuck out and that is because of sitting on my butt and playing with the computer and not working outside.  My knees are telling me there is also a substantial amount of extra weight above them that they are carrying.  Trapping will take care of a lot of things…weight, cabin fever and that extra amount of cash in my wallet….gas money.
The rig is ready.  I loaded it up with 60 leg holds and 100 conibears and one bag of 3 floats.  My 22 pistol, water bladder, sandwich, rubber gloves, boots, warm clothes if I need them, smacking stick and chopped carrots laced with anise oil.  Let the season begin!
Bears Butt
February 9, 2015
END OF DAY RESULTS
Who's butt is kicked is MINE!
I got away just about 9 a.m. and returned about 3:30.  Managed to set 44 traps and came across two broken traps in the bags and 3 others with loose "dogs".  I was able to pinch the dogs back on but will have to be replaced very soon.  I'll take some out with me on the four wheeler.
The sign is not what it usually is and there is a whole lot more raccoon sign than muskrat.  I'll be lucky not to have half my line of caught rats chewed up beyond use.
I was so tired out in the swamp I even fell down 3 times.  That has never happened to me ever before.  The water is way low from what it usually is and that is probably why the rats just don't seem to be there.  I'll check these traps tomorrow and set more.  I should be able to get another 20 or so set tomorrow.
Butt