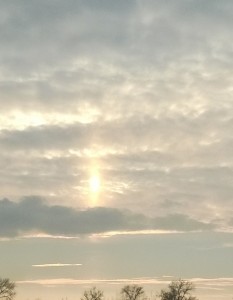 Yesterday Sherry and I had the privilege of going down to the Ronald McDonald Family Room at the Primary Children's Hospital to help give them a meal.  Smith And Edwards is a big part of the ACE Team that supports the Primary Children's Hospital and one a month ACE provides a meal for the families that have children in the hospital.
As we were driving down toward Bella's Restaurant in Farr West, to meet with Joy Peterson and pick up the meal, we saw this Sun Dog out in the Western sky.  Sherry took the picture with her phone camera.  A beautiful site and one of the prettiest Sun Dogs I have ever seen.  A ray of hope is what I'm calling it.
Joy had the meal all placed in the back of her car and ready for the trip to Salt Lake City by the time we pulled into the parking lot at Bellas.  We transferred our stuff and ourselves into her car and off we went.  The traffic going South into the big city was all I remembered of my 27 years of commuting that roadway and it only re-established my desire to avoid it at all costs, when I can.  This time our shortest route was to go that way and on that road.  No accidents were seen as we rode along….Joy is a good driver.
Arriving at the Primary Children's Hospital about 5 p.m. we met up with Trent, the main ACE guy at the main door and with assistance from another ACE volunteer, we moved the food from the car up to the Family Room of the hospital.  There were 5 of us volunteers last night representing ACE.  I'm bad with names and so can't tell you who the other two were, but one lady was from an ACE store in the SLC valley, while the other gentleman is from the Layton store just outside the South Gate of Hill Air Force Base.
What a place.  A very comfortable area for family of children who have to be in such a place as a hospital.  But what a nice hospital it is, with the most caring of doctors and nurses and a whole lot of volunteers who help in every way possible.  One can only wonder just what those children are in there for and from all the walks of life they come from.  I was so wrapped up in the moment(s) I only took one picture and that was of two of the staff members of the Ronald McDonald Family Center.  They are great and wonderful people.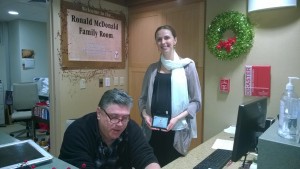 This Family Room, as they call it, has pretty much everything a family could need.  Computers, Comfortable sitting areas, a beautiful view of the city below, a kitchen with all the facilities you need and fully furnished by the food pantry and volunteer groups like we were last night.
The fridge and freezer there was so packed with every kind of food you can imagine and before we left, we added a bit to it in the form of left overs from the meal that was prepared by the Bella's Restaurant.  Trust me, there wasn't much left over.
But the main reason I'm writing this it to let you know there are a lot of people down there who have some extremely sick children.  Some of them have been down there for months, while others only a few days.  They are all very nice people and all they need is to know there are a few people who care about their situation.  What I came away from the evening was a reassurance of something I have already known most of my life…."If you think the world is coming down around you and there is no hope for you and your situation.  Just look around and see your neighbor or the person sitting next to you or walking down the street.  There are people who have it MUCH worse than you".
We got to interact with some wonderful people last night with a lot on their shoulders, but they did have a smile or two left.  We tried in our own simple way to help them enjoy a nice hot meal and let them know there are a whole lot of caring people in the world who have their prayers in their hearts for them and their children's issues.
I am so very glad that even though I don't work for Smith and Edwards, nor ACE Hardware, that I was allowed to join them in serving that meal last night.  It was a very rewarding experience for me, even though I got stuck with the "pots and pans" when it came to clean up….That's OK, my military experience came in real handy for that!
On our way home, Joy made it a point to go around Temple Square so we could see the billions of lights that are on display down there.  What a beautiful site and the streets were filled with "lookers" just like us and everywhere you looked were people laughing and having a good time.  Lots of entertainers (some might call pan handlers) hoping to entertain someone enough to get a token of appreciation in the form of a coin or bill dropped into their hat.
A wonderful evening.  Thank you for the opportunity folks!