I've told you about the duck hunt Brek and I had three days ago.  It was a blue bird day between storms, a slight breeze and there seemed to be a lot of big ducks moving around…by days end Brek had 6 birds and I had 4.  All in all a very good day of duck hunting.
Well, yesterday was to be one of the same.  A relatively blue bird day between storms.  We had a great stormy day on Tuesday, with a mix of rain/snow and wind.  Yesterday would be partly cloudy with some breezes blowing and everything in anticipation of a fully overcast day on Thursday (Thanksgiving day) and pretty good winds.
What better to do than take Conner and his friend Trevor out for a great duck hunt?
The plan was made and off we went about 10 a.m.  I was full of anticipation that the two young hunters would get their first ducks.  Weasel and I were fully prepared to allow them to take the first shots and get lots of ducks.
Because there were 4 of us, hunting the box was out.  We needed to set up across the small pond of water away from the box and then sit on buckets in the toolies.
Well, we got everything set up and even used Dry Dogs, spinning wing decoy to help attract the birds.  Our biggest issue was the lack of cover to hide in.  We figured it would be better to sit in the low bull rushes closer to the decoys, rather than nearly 50 yards back in the higher grasses and reeds away from the decoys.  We hadn't been there long before a hen mallard dropped in on us from out of nowhere and we figured our disguise in the reeds was going to work just fine.  By the way, Weasel and I both missed that easy shot on her.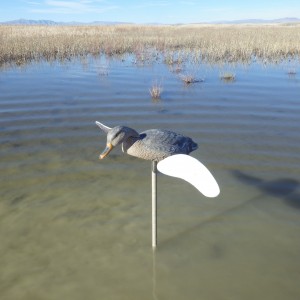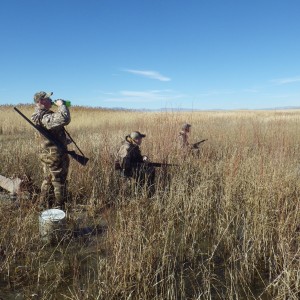 Well, as the day progressed it became quite apparent that the ducks were not going to cooperate.  We sat there from about 11 a.m. until nearly 4 p.m. without seeing more than a half dozen ducks and most of them were ducks the two boys jumped up while they traipsed around in the swamp.
Around 4 p.m. and with only an hour left of shooting time, a few birds began to show up.   Almost all (not quite) were singles and doubles and when they just would not finish and come into the decoys  we moved back into the taller reeds to hide ourselves.  We still only got a shot at two ducks even after moving into the reeds.  Still we did see quite a few last minute birds.
The sunset was pretty for sure last night.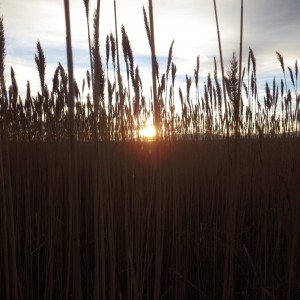 I left my shotgun and went inside the phragmites in order to see any birds that might be approaching from the West of us, I think it paid off with me seeing the birds coming our way and alerting the others of them approaching.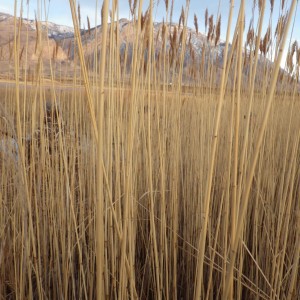 Phragmites is thick and nasty stuff….huh Brek?  Brek and a friend were lost in a forest of phragmites a few weeks ago and it required search and rescue to come and find them.  It could have been a real disaster had they not called to get help when they did.
So, with the season closed for the day, I took a last picture of Trevor and Conner with the sunset in the background.  Sorry guys!  No birds today!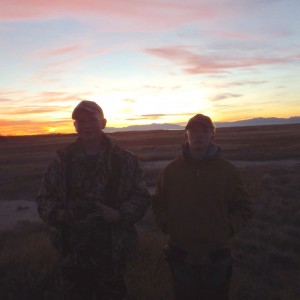 Bears Butt
November 27, 2014