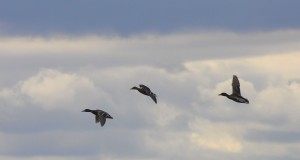 Today's weather is going to be extremely mild.  Warm for late November as well and no wind.  It is supposed to begin clouding up this afternoon and then after midnight tonight a storm front moves in and it will be raining by tomorrow morning.  BUT….Conner and I are going duck hunting today!
My thoughts are this:  There are quite a few northern ducks in the area.  Most of the lakes are frozen with a pretty good cap of ice on them.  The area where we are going to be hunting will also be capped with ice, but as the day time temp rises, our little pool of broken ice should clear and any ducks flying around should decoy in.  My biggest thought is that most hunters will be waiting for tomorrow to go hunting.  That means the swamp should be all ours today.  My other thought is that the geese should be looking for a feeding spot and when they see our decoy spread, they should come right in!  Let's see how my thoughts on the subject turn out.
I'll post up some pictures of our bag later on!  In the meantime, wish us luck!  Today should be Conner's day to bag his first duck and maybe even a big old honker!
Bears Butt
November 21, 2014
UPDATE:
The hunt was warm…but…we had to deal with 3 inches of ice everywhere.  Breaking up the ice to place the duck blocks was a killer of a deal and then there was all the chunk ice around.  No way would the real ducks think that was "open water".  It wasn't until way late in the day that water could actually be seen.  But then, it was a great day to be out with my oldest Grandkid….They are different when a parent isn't around.
And so, what was it like to be out on such a warm late November day?  The sky was as blue as could be until late in the afternoon, when it began to get rather hard to distinguish a duck from a "floater" passing in front of your vision.  We saw thousands of ducks mostly flying into other peoples setups.  We also saw 3 swans get knocked out of the sky by some folks way to the West of us.  We had one hen mallard come over extremely quick and low and Conner couldn't get on it quick enough….it's still out there somewhere.  The rest of the ducks that did venture in close enough for us to get excited and even to shoot at, were green wing teal.
I ended up shooting 4 times, Conner 3, and only because his gun had not been cleaned from the last hunt and was hanging up with rust.  DAD!!!!!!!
He knew ahead of time that the first shot on all ducks was his to take and I would only act as a backup….I bagged my first double!  Both male Greenwings.
I think the most exciting thing for the day was the sunset.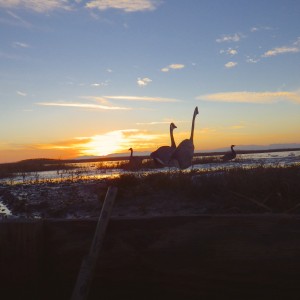 The weather Saturday is supposed to be more "ducky" and maybe we will go out and try again.
Bears Butt
November 22, 2014