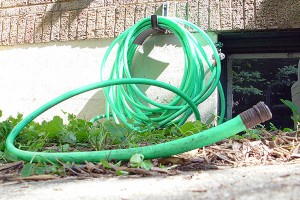 Every Fall, homeowners all over the world, well those who own homes and have water carrying hoses at least, have to put their hoses away  before freezing weather causes the hoses to break and forces the owner to purchase new hoses the next Spring.  I being one of them, like to put my hoses away long before any chance of freezing temps.
This year was somewhat different.  After the deer hunt, I carefully went through the deer hunting camp trailer and made certain all the things that could freeze were either removed or wrapped with assorted stuff to keep them from freezing.  Batteries were brought in to be used for other things, like flashlights and such.  Jugs that hold water were dumped and left with the cap loosely attached.  I then addressed the Coach….the batteries were well charged, the overhead air conditioner covered properly and ready for the coldest of temps and harshest of winds.  The water system purged and charged with anti freeze stuff.  AND the air in the tires were checked and the tires covered with sun blocking tarps….I'm winter ready!
As I recall, it was mid October and one morning Winemaker and I were sitting in our usual spot early in the morning, I sipping hot coffee, she reading Facebook something….I was reading Facebook stuff too.  She asked, "What are your plans for the day"???  My reply…."Well, I thought I would pick up the hoses and make them ready for winter".    "NO"!  Was her reply…."Have you looked at the weather forecast?  It's unseasonably warm and we might need to water the lawn".  "Oh"…said I.
A week or so later, the same question arose from her…my response was something to the effect….what do you wish me to do?   Of course the usual, I have no plans for what you do each day, but what do you plan to do today?  Again, knowing it is close to time for Frost to come in and stay awhile….I think I will bring in the hoses and ……..NO!  I need you to ……something , something and something.  (In her defense, she did not say anything like this, I'm making it all up, but the fact remains, I did not get to pick up the hoses….until today).
It is now, November 17, 2014…the high temps for the last week have not exceeded 40 degrees.  As you recall in high school, 32 is the temperature at which water freezes.  My hoses contain YARDS of ice cylinders.  Some inches long, some feet long.  Today, when asked about my day's plans, I did NOT say anything about picking up the hoses.  Only that I had to unload the trailer of my 4 wheeler, go to the field and get some hay for a lady, take the bags of leaves from last weeks gathering down and dump them on a guys garden plot that wants them and an assorted list of other unrelated stuff.
Well, I did all the other stuff and when I got to the hoses….I was surprised they were not busted (I might find next Spring they are)…..I took them and stretched them fully from the hose bib out as far as they would reach…making sure they were basking in the 31 degree sun light of the day on the South side of the house.  I turned on the water so the "warm water" coming out of the house through the hose bib would warm the internal workings of the hose and then went inside and set the timer for 5 minutes.
Why the timer?  Well, when I get involved with my computer time slips by so quickly, I need the timer to bring me back to reality.
When the first buzzer went off, I quickly went outside and to my surprise there was a skyrocketing spray of water coming from the end of hose number one!  I waited!  It sprayed.  I waited!  It sprayed.  I waited…..And after about 5 more minutes the cylindrical pieces of ice began to spew across the lawn and the hose began to dance with excitement about not being filled with frozen water any more!  YEAAAAAA!
I was able to roll that hose up and put it away.  One of many.
Hooking up the next one to the hose bib I stretched it out, turned the water on and reset the timer.
The process again went on…I saw lots on the computer…How to power up your ice fishing fish finder with 8 each AA batteries….I watched a very good video of a 2011 Crawford deer hunt from some folks I know.  It was time well spent.  And after 3 settings of 5 minutes each, I heard the distinctive sound of water flowing freely through my homes water system!  YES!  Another hose ready to be coiled up and put away!
This went on for several hours folks.  What would have taken maybe 15 minutes back in October, took almost 3 hours today.  I have left out our least expensive hose for emergency use….draining and fill the hot tub and filling the "pondless waterfall"….it's a short and cheap hose….25 feet that cost us about $12….I will hook it up to the hose bib…use it to fill whatever is necessary and then unhook it and drain it as it should be drained until it is needed again.
So, fellas….when it is time to put away the hoses….don't advertise the fact that you are going to do it….just do it.
Bears Butt
November 17, 2014