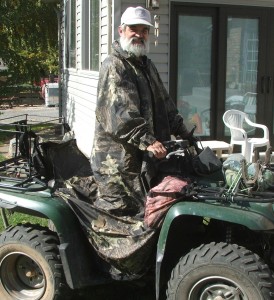 This picture looks like Bears Butt is ready for some wet weather.  Actually he is and this coat he has on is called "The Cocoon".  A few guys from Idaho (I think) came up with the idea and it's pretty neat.  You install snaps on the fenders of your ATV that coincide with the snaps on the rubber coat.  The snaps hold the "coat" in position and there are some weights on the bottom of the coat, near your feet that hold that part of the coat down.  The cuffs of the coat are adjustable to fit snug around your wrists and the zipper comes right up to your chin.  A hood holds snugly against your head and only your eyes can be showing if that is all you want to show.  The whole idea of it is to capture the heat from the engine of your machine to keep the driver toasty warm on a cold and wet day afield.  I love my Cocoon!
Now I have a story for you:
Hunter, Weasel, Edjukateer, Crock and I were on an any bull elk hunt and were given permission to hunt a private ranch.  The elk didn't hang out on this ranch too often, but they used it to travel from one spot to another and we had a very good chance of filling a tag or two.  This property is right on the fringe of the Uinta Mountains of Utah.  The elk live in the high country during the summer and when the winds bring the snow to the high country of the Uintas down they come and winter near this nice little piece of heaven where we have permission to hunt.
We put our camp in a place where it would be fairly easy to get out should a big snow storm hit but it also called for a bit of a long ride in the cold and wet.  Enter Cocoon man!
One morning, as I was loading up and donning my cocoon, Hunter laughed and said that there would be no way for me to get to my rifle should an elk suddenly appear in front of me.  I said…That is ok, there isn't going to be any elk run in front of me and besides if there were I'm sure I would figure a way to get to my gun for the shot.  At least I would be dry and warm.
You see, this particular morning it was snowing pretty good and it was the type of snow that wets everything and gets deep and deep very fast.  We all put on our warmest of warm hunting clothes and hopped aboard our machines.  Off we went!
With snow pounding in my eyes (the only visible part of me outside my cocoon) I turned my machine up the road where I had picked for that mornings hunt.  Hunter, Weasel, Edjukateer and Crock went on their ways to their pre-picked spots.  When I arrived at my spot I could barely see maybe 20 yards it was snowing so very hard.  I decided to park my atv right in the trail and sit there while it got light enough to see.  I was watching a saddle that we had seen elk tracks crossing over the night before.  The snow was about 6 inches deep and getting deeper with every passing minute.
I sat there just as still as I could listening and watching, trying my best to pick out any kind of movement in front of me.  I really didn't care much about what might be behind me because it would have had to be right on top of me in order to see it anyway because of the brush next to the trail.  My focus was to my front.  The snow kept up its falling and pretty soon you could not see my atv tracks in the snow.  They were full of snow.  I also mentally noted how much snow was on my cocoon and the toy I was sitting on, but how very warm I was still even after sitting there for nearly an hour.  I was dry and warm.  Visibility was still only about 30 yards and I knew the sun rise had taken place at least a half hour ago.
Soon, through the snow and foggy view, I could hear the faint putting of a coupe of atv's.  It must be the others coming to find me.  They are probably ready to get back to camp to warm up and dry their clothes.  I have the upper hand on that situation…I'm dry and warm.  I grinned to myself.  And the noises kept getting closer and closer.  Soon, at the very edge of my visibility I could see two atv's coming up the trail towards me.  Yep, it looks like Hunter and Edjukateer.  They got closer and closer and I could see their 4 wheelers were pushing snow underneath.  I has really snowed a lot, I thought to myself.  But I didn't move and they continued to get closer.
At about 40 yards out, I could see it was NOT Hunter and Edjukateer, but two other hunters I did not know.  I sat perfectly still as they approached and as they did, I thought, I will have a good time with this situation.  How dare they intrude on my private property hunting location.  I continued sitting upright with all that snow covering my cocoon and machine.  Only my eyes appearing out of the white of the snow.  The lead man suddenly slowed as he finally saw me and brought his machine towards mine at a crawl, put, put, put until his machine was nearly touching mine.  His eyes locked onto mine and he set his brake.  The second man, stopped behind the first about 10 feet back and just sat there staring at me.
The first man slowly began to dismount his machine, still not taking his eyes off of mine.  I sat motionless.  My mind raced as to what to do as I knew this guy was thinking something weird has happened, but still I sat without motion, eyes open and watching him as he approached.
When he got to the front of my toy, I shook off all the snow and said, "HELLO"!!!!
The man grabbed his chest, bent over with a big let out of breath and said, "Oh God!  I thought I had found a dead man"!!!!!  He spun around to face his friend who was also holding his chest and then we all started to laugh.
When the laughing was over we introduced ourselves and I apologized for my joke.  They thought it was a good joke even at their expense and we shared some jerky before they went on their way.
My cocoon!  I love it!
Bears Butt
September 18, 2014