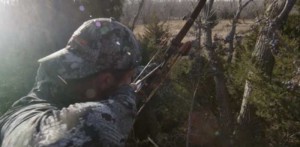 Today is the day!  We are heading off to find the big bucks and put a plan together to put one in the cooler!
Weather for the area we are hunting is calling for partly cloudy with a 20% chance of afternoon showers.  I'd say that is a perfect forecast for August 14th.  Highs for the entire week are calling for 80 degrees, with 50 being the low.  A consistent forecast with no more chances of rain after today.
Our travel plans will put us near La Beaus for a raspberry shake and then on to where we plan on camping.
Once the camp is set up and the firewood gathered we will go do some exploring to see what the "clear cutting" is all about.  We have heard there has been a tremendous amount of it done since we were last hunting in the area.  What will the deer patterns be like with all the forest gone?  That is what your day and a half before the opening day is all about…locating and patterning some of the deer.
It's all meant to be fun for the boys and a great time for us two older guys as well.
Weasel has opted to purchase a spike elk tag for the area and as a bonus, using archery equipment allows him hunters choice as to take a cow elk.  He plans on being with Conner hunting deer, but should a cow elk come into the picture, Conner will give up the bow so his dad can tag the cow.  Sounds like a great plan to me.  Once the cow is down, it will become me and Cody's job to bring the meat back to camp.  I'm good with that.
So, the next publication on here will be after this hunt has ended…sometime after the weekend.
Later….Wish us luck!
Bears Butt
August 14, 2014