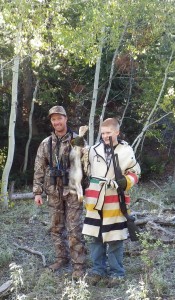 Now there is a "good old days" picture if I ever saw one!
Last year Conner bagged a few bunnies while on the muzz hunt, this year it's his turn to bag a buck!
Today is Monday, and on Thursday of this week, we will have the camp stuff all packed up and will head the mules towards the mountains!  Conner has been doing his homework at the range with his bow and now it's just a matter of time until he has a buck standing in front of him and he can prove all the hard work and practice will pay off.
It's always a fun time of year for me, getting ready for the hunt, any hunt.  All the planning and thinking of all the different scenarios that could possibly come into play.   Lists of essential things that need to be packed.  Lists of helpful things that need to be packed.  Lists of "What if" things that need to be packed.  Lists of food that needs to be packed.  And of course, Lists of niceties that need to be packed.
Conner and his younger brother, Cody came up on Saturday and cleaned the camp trailer really good, now it's time to put all our gear in it.  The refrigerator is plugged into electricity and is very cold right now, ready for food to be put into it.  The battery is on the charger.  Propane has been added to the two tanks and they are ready for the hills.  I've looked over the lists more than a dozen times and continue to add things as I think of them.  Sometimes I wonder how we ever used to get by with our hunting.  As a kid I recall, jumping into the station wagon and off we went.  We slept in that rig and had a coleman stove to cook on and dad always brought "the big black grill".  He could cook up the best meals in the world on that big old grill.  Add in a coffee pot with the grounds boiled in the water.  What more do you need?  Today we are lost without our lanterns, flashlights, cameras, batteries of every sort, binoculars, range finders, spotting scopes, gps units, two way radios (oops, gotta add those to my list) and the list goes on and on.
And I suppose some day, Conner and Cody will look upon this trip as a bare necessity type trip like I recall from my first hunting trip or two.  And too, perhaps there was a lot more put into my first hunting trip than I know about.  Someone had to remember the toilet paper right?  And all the food and drinks!  Not to mention the game bags, rope, guns and bullets, water proofing for the boots and our warm clothing.  And of course the sleeping bags and water and that ever so important "liver and heart" bucket!
Back in the day we would head out as soon as school was out for the week and dad got off work, and be back home by Sunday evening.  Deer or no deer, that was the hunt for the season, even though there were a lot more days to the season left.  Today, we plan on going up a few days before the opening day and staying for a week.  Times have changed.  But the memories go on and on.  We remind ourselves of past hunts when we are sitting around the fire talking.  I have my favorite stories and so did my dad.  I always wanted to hear his story about hunting in Franklin Basin and having the wolf trailing behind him.  It always scared me when he told it, and the next day when I was out hunting, I would keep a good lookout behind me.  That looking behind me actually caused me to bag a buck one time.  Had I not looked back on the trail behind me I would not have seen him slipping around on me to get away.  Yep!  The Good Old Days!
And hopefully this weeks hunting trip will become "the Good Old Days" to a couple of young hunters in the family!
Bears Butt
August 11, 2014