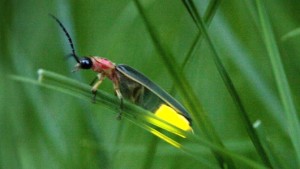 Some 25 years ago we were down in the field with our two boys and some of their friends, helping them set up for a camp out.  It was just after dark and Winemaker and I were about to head home and leave them to their camping, when suddenly there were little flickering lights all around us.  Fireflies!  They weren't everywhere, but they sure were noticeable. The kids immediately went in pursuit and it didn't take them long to have several of them captured up!  What I remembered most about them was how badly they stunk!  Yuk!  But aside from that they were cool to see all lit up.  Like little LED's and flicking all around the field.  These little creatures are not well known around Utah and especially 25 years ago.  Everyone we told about seeing them called B.S. and finished their statement with "There are NO fireflies in Utah"!  Well, Ok then, I guess we were just seeing things and catching them in our dreams, but they still had an awful smell about them.
So, just last year, 2013, the folks at BYU finally found some closer to their campus and wrote this article.
http://news.byu.edu/archive13-jun-fireflies.aspx
I'm sorry you have to highlight and copy this link to see the video and read the article, but that is just how it has to be.
So, last night for Conner's 13th birthday celebration, Weasel and Hot Spark allowed him to bring some friends down for a cookout and birthday celebration which included a camp out in the same area where 25 or so years ago Weasel got to see his very first firefly and sure enough, last night they saw Fireflies!  How cool is that!?!
Bears Butt
June 13, 2014