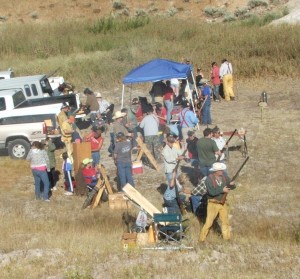 Yesterday I had the great opportunity to take Kenzie up to join her folks at the Cache Valley Rendezvous (CVR).  This is the second one of this rendezvous I have missed in as many years and my speculation about the events for this years rendezvous were pretty much spot on.  I consider myself a "shooter"….when I go to a rendezvous or any mountain man activity outside, I like to shoot, especially my rifle and pistol, shotgun too, but not nearly as much as the other two, mostly because I'm not good with it.  Anyway, most of the gang that hang with the Willow Creek Free Trappers are shooters as well.  More is better!
So, let's first talk about CVR's shooting from the past years.  When we first got involved with anything doing with mountain man events, this CVR event was one that we looked forward to the most.  First off it was close to where we live, second it had some very fun people running the show, and third they shot a lot and it was fun.  Targets were such that anyone could win any event and the crowd that gathered just to watch could see some incredible shooting from some of the people on the line.  They might also get a chance to shoot and try a blackpowder rifle out as they were right there behind the line intermingling with the shooters and it wasn't uncommon for a shooter to offer a tourist the chance to try their hand at it.  Something that really drew a big crowd.  I remember once looking around behind the line and seeing a couple of families sitting on a large blanket and eating their lunch while they watched the shooting going on.  They stayed there most of the afternoon enjoying themselves and the antics of the mountain men and women.  A totally good time.
As the years have gone on, the CVR shooting activities have gone down hill.  First it started with crappy prizes, like tubes of bears grease and "made in china" knives.  With some complaining that soon changed and the prizes became more what we were accustomed to, but then slowly over the years the prizes went down hill again and even with much complaining the quality did not come back, but rather it waned even more so.  The last prize I won for a first place was a very nice one, but I found out after the man passed away, that he had gotten that prize out of his own, personal stash of items he treasured, rather than give me the prize that someone from the "club" had decided would be the prize for that shoot.
Before the prize I just mentioned, and several years before, I won another first place prize and guess what it was?   You guessed it…none other than Sir Butt's "Cash" sword, named after the Cache Rendezvous.  A nice Renascence sword valued at many dollars I'm sure, but I'd have been much happier winning a pound of powder or a box of round balls.  My thoughts on that have always been, if I go to a renascence and participate in an event where I could win a prize, I would expect a renascence type prize to be awarded.  However, this event is a mountain man event with a time line somewhere between 1800 and 1850 and prizes should be something useful in that period of American History or at least a worldly prize within that time frame.
So, last year I was not happy when I heard, through the grapevine that the prizes would be less than desirable for shooting well.  But, it was tempting to go and play with the trail walk and the other events as the prizes those clubs give out are usually hand made or at least very nice prizes.  But I elected to stay home instead.  What I heard after it was over, by those who did go was not a good thing to happen to the CVR club.  Their reputation had caught up with themselves and now they have dug a huge hole out of which it will take them many dollars and years to recover from.  Here is how the shooting went "Last Year":
Whoever called the shots (rules) really didn't seem to have much of a clue as to how "fair" something like shooting for prizes should be done.  Every shooter was given a packet of targets and the targets were marked as to what the objective was for that shoot and how the scoring was going to be done.  It was up to the individual shooters to be honest in following the rules of the shoot and to make sure they had their name on the targets when they turned them in for scoring.  Some of the targets had minus points involved, up to minus 100 in some cases.  But, now get this, if you didn't shoot too well on a target, you could just throw it in the trash and you would get a zero for that target….zero is much better than minus 100!  So, after the two days allowed for you to shoot the targets in your packet, you went to the big council fire on Sunday night to see how you placed in the shooting.  As it turned out, the winner of the whole shooting weekend ended up only shooting on Saturday and he turned in 3 or 4 of his best targets.  Others who shot fairly well and followed the Normal rules of being fair, turned in all their targets and received a couple of minus 100's….they came in last place, or at least out of the running for any prizes being awarded.
Now for what I found out about "This years CVR" rendezvous in relation to the shooting events:
The schedule of events calls for shooting a block of time on Saturday starting at 9 a.m. and again on Sunday, starting at 1 p.m.  However, when Edjuakateer talked to the range master at the sign in table (sign in for the entire rendezvous) the range master told him that shooting would only be held on Saturday and the "aggregate" score winners for first and second places would be given prizes.  Edjukateer told him about the printed schedule and the range master left the area to go talk to the Booshway about the  printed "mistake".
Also, there was no posting of a "Situation shoot", usually pulled off by another club,  but there was going to be a "trail walk" where each participant will walk it by themselves and keep their own score and turn in their score sheets once they were finished.
Now, I don't know about you, but I'm an honest man and I would walk that trail and make sure I followed all the rules of the shoot and probably come out with a perfect score, but that's just me.  I think the person in charge of scoring and coming up with a broken tie for prizes will have one heck of a time doing that.  Good luck, whoever you are!
Again, I'm glad I saved my money and my time attending this years CVR rendezvous and I hope everyone who did go have a GREAT TIME!  Make the kids have a great time as well!
SO, why am I posting this ever so negative report about a group of rendezvous people I like?  Opportunity is the word I choose at this time.  For years the people who are members of this CVR club have been given notice by myself and by many others (in and outside the club) that if they don't cater to the shooters their rendezvous will go into the tank.  Last night as I drove in and out of the rendezvous area I saw the usual traders and their camps across the creek, but I didn't see the usual numbers of "tin tipis" outside the primitive camping area.  The traders are there to catch money from the tourists and the tourists are there to see and witness the "doings and goings on" of the mountain men and women and these expectations include shooting and cutting up.  It's bigger than just a camp out.
So, here is the opportunity for a group of clubs to get together and dedicate this Memorial Day weekend to a "shooting rendezvous".  Should traders come along for the ride, so be it, but make it a weekend of shooting fun for those who like to do just that.  Rifles, pistols, shotguns…toss in tomahawk throwing and a trail walk/situation shoot or two and have a blast doing it!  One big old scene with one big camp fire at night and loads of fun and story telling….just like it was in the beginning of the CVR way back when.  Try and find a place where it doesn't cost to camp and make the fees to shoot fair to everyone spending money on supplies for the shooting events.  We need to face the fact that prices of everything is through the roof right now and won't be dropping "ever".  Pounds of powder are over $15 in most places, percussion caps over $8 a tin and round balls are also over the $10 range.  I suppose that is the price you have to pay to play.  So, maybe have every shooter bring a prize for every shoot and conduct a "put up or shut up type shooting event", or do like the Willow Creek Free Trappers do, bring a single prize worth X amount of money and register it, shoot for the two days and then the shooter with the highest score gets first pick of all the prizes offered up and continue down to the worst shooters score who picks up what is left on the blanket as their prize….everyone that plays gets a prize in the end.  As for trail walks and/or situation shoots, charge a fee that "at least" covers the costs of materials and maybe even puts some money into the pockets of the club and alternate clubs who pull off those events so that at least they get to have a "relaxing" weekend for a couple of years in a row, at least….we all know how much work goes into a situation shoot or a team trail walk and for the club in charge of those their weekend is nothing but a 3 day job with little to no relaxation time.
Well, that's what I have to say about all of that.  Wish I was at the rendezvous having a great time shooting and playing mountain man, but instead I'm here typing my disgruntled feelings and looking forward to some yard work!
Bears Butt
May 24, 2014