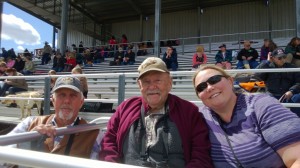 Winemaker and I made a special trip down to the Golden Spike Fairgrounds yesterday and met up with our friends Barry and Lalie Howard.  They were there to cheer for their son, Travis, who is a team driver for one of the contestants teams in the "World Championship" chariot racing event being held at the fairgrounds this weekend.  These races have been going on all winter long, but starting last weekend (March 22), they began racing to eliminate and advance teams for the culmination of this racing season.
I have never been to these races before.  I have heard about them and threatened to go see what they were all about, but until yesterday I had never been.  In the picture above is Doral Howard, a lifetime member of one of the local racing groups and a key player in making sure this sport became a living adventure for the enthusiasts who enjoy it.  Doral made sure this track at the fairgrounds was put in place and made sure it would be a track the racing teams would enjoy driving on. Looking at the track, I could see literally thousands of hours of labor and hundreds of thousands, maybe millions, of dollars in materials going into the building of it.  Doral is also THE MAN who invented the release doors at the far end of the track.  His invention is the one that makes it all fair when the teams are loaded up and ready and the doors are opened, that they all open at the same time.  It's his invention that has become the "standard" in this industry!  Thank you Doral!  A more fair man could not be found.
The picture has Doral surrounded by his Son, Barry and Grand daughter Sheckie, both enthusiastic about this sport and there to support their son and brother in his races.  I forgot to take a picture of Lalie and Travis.  I am soooo bad!  But my mind was on the races, not on this story.  I guess that is why I do stories like this for fun and not for profit.
So, here is a driver, standing on a platform about the size of the bottom of a bushel basket, hanging onto two reigns hooked to two very powerful horses.  His job is to "hang on" and make it from the starting gate to the finish line, a quarter of a mile down the way.  Nothing is protecting him, or her, from the flinging hooves and dirt balls or the horses tail flapping him in the face.  He does have a small handle to hang onto at the beginning of the race so that he stays in the chariot as the horses spring forward out of the gate, but once his body catches up with the momentum of the horses he can let go of that and get to directing the horses straight forward.
We did see where one of the drivers was flipped out of his "ride" as the horses came out of the gate a bit sideways and caused his chariot to hit the guide boards, causing it to flip and him to roll out.  I assume he was alright, I saw no ambulances and no announcements were made to the contrary.
Barry explained all about the racing to me and it sounded exciting, and very much scary at the same time.  I would never put myself on that little platform behind two big old horses and expect anything but death to be the result.
We were there to cheer on Travis!  Travis has been racing in these events for about three months.  THREE MONTHS!!!????  Yes!  And he has been nominated as "Rookie Driver of the Year"!  His blood runs cold through his veins and he does not care about his own safety…his mind in on the gold!  He wants to win and that is what it takes to be a top notch driver in this sport!  Forget about the mud being slammed into your face!  Forget about the other team driving into your lane!  Forget about the fact that the tires can come off the cart you are standing in and cause you to flip from side to side and under the driving hooves of two 1500 pounds animals.  Forget about anything except closing that quarter of a mile distance before the other teams get there.  GO TRAVIS GO!!!!!!!
Well, because we were there to watch his race, I did not take any pictures of it, Sheckie did that on a video, but I did get a few pictures of another set of teams racing.
AND THEY'RE OFF!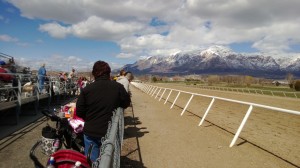 AND THE OUTSIDE BLUE TEAM IS IN THE LEAD!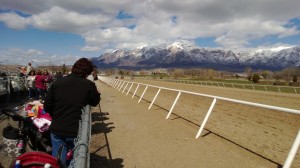 BUT WAIT!  NOW THE INSIDE, WHITE TEAM HAS CLOSED THE GAP!  IT LOOKS LIKE THE WHITE TEAM JUST MIGHT TAKE IT ALL THE WAY TO THE LINE!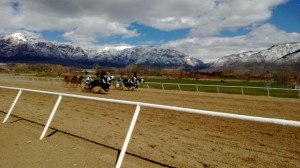 And they thunder past at about 40 miles per hour!!!!!
To be quite honest, it was a thrill to watch them rip on past and hear the crowd cheering on their guys!  We did it too when Travis went flying past us.
I have tried to copy the video that Travis took from his helmet camera as he and his team went flying down the track, but I'm not sure I can put it on here.  The link is this one:
https://www.facebook.com/photo.php?v=713427808688528&set=vb.100000639457740&type=2&theater
It sure give you another prospective of just what is going on as those teams go racing down the track!
So, Travis won his event yesterday and today he has to race again and if he wins today, he will be in the finals on Sunday…THE WORLD CHAMPION FINALS!  We are talking about WORLD CHAMPIONS here folks!  I had found a lucky penny on the ground while I was there and with a little coaxing I gave it to Travis for luck in his upcoming races!  I really don't think he needs the extra luck as he is a very good driver and has had some expert coaching from his Grandfather and his dad.
I wish you the best Travis!  GO GET EM!
Bears Butt
March 29, 2014