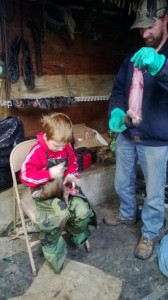 When an old guy like me is looking at the big picture, it is sure nice to see there are some young folks still liking to hang around and do things like I did in my younger days.  Here my 8 year old grandson Cody is learning how to skin a muskrat.  I think during the entire season he skinned about 5 and he did very well considering his mother didn't like the idea of him playing with a sharp knife.  Well, mom, he could have cut himself, but he was very careful and managed to only cut on the muskrat….relax!  And even if he had of cut himself, he was well protected with the rubber gloves that were WAYYYY too big for his hands….I joke!
Anyway, here he is and has a lasting memory implanted in his brain that nobody can take away.  Thanks for the good job Cody!  Next year maybe you can come up and skin some more.
This carries on with a young man forever and even if he never picks up another muskrat, his bucket list now holds the fact that he skinned a few.  He was fun to watch and it was equally as fun to listen to his dad coax him through the tough parts.  There were no nicks in the hides and every one ended up with all their ears, clean eye holes and noses intact!  How can it get any better than that?
So, 733 rats went up in the shed this year and 733 rats went out the door last night.  The auction house now has them and from this point until after the auction in May, we wait.
I didn't catch the young men's names that accompanied the pick up man, Corry Hatch, but we met them at a pre-determined spot last night and loaded up all the furs.  I really didn't think they were going to fit in the car, but they did.  Does this picture show a tradition that will be handed down to these two youngsters?  Time will tell, but they sure were there and very much a help in loading the furs.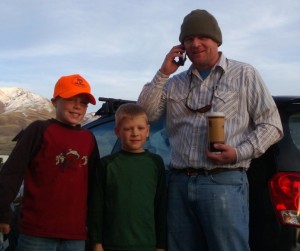 Thanks Corry and Thanks Boys!  Drive safely!
Bears Butt
March 29, 2014