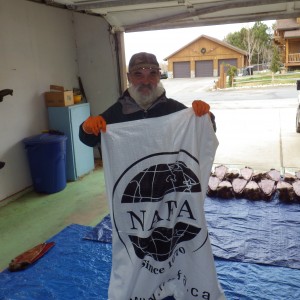 So, What's a Bears Butt worth at auction?  Bag 'im, Tag 'im!
Boy what a day!  It took a whole lot longer to get things done than I expected today.  When you think about it, pull down the rats on the stretchers, take them over to the garage, pull down the hangers full of furs, take them to the garage, pull the furs out of the freezer, dump them….Easy huh?
Well, sure it's easy, but it took a long, long time to do it.  I started at 10 a.m., Bob and Reed showed up around 11 a.m. and the rest is history…I got back into the house about 5 p.m.
So, it's not an issue of pulling down the rats and taking them off the stretchers…after all we only had 175 of them…..
But the fun began when we moved them over to Bob's garage and piled them all up…YEEEHAAAA!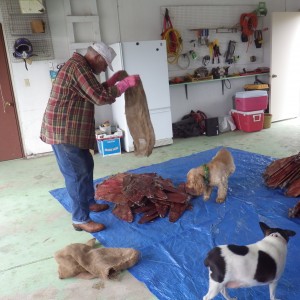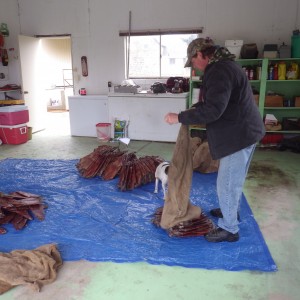 And the pile grew and grew!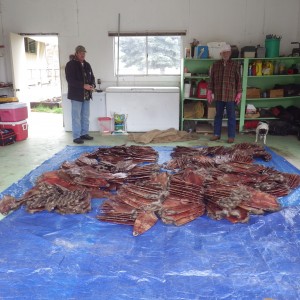 That pile is all the rats we caught this year.  It doesn't look like much does it…but I'll tell you it is a LOT to us who had to go out and catch them and then deal with them back at home…we discovered two more than we thought we had…733!!!!  That is always a good thing to find out and much better than finding out you miscounted by two less!  More is always better!
So, here we are with piles of rats sitting on the tarp.  Now it's time to organize them by size….Small, Medium, Large, Extra Large, 2X Large, 3XLarge ect.
We use the ruler with the grades marked on them in order to do that.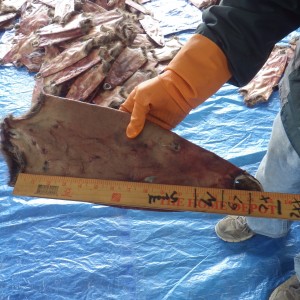 In order to be "critical" of our measuring, we decided to measure the "belly" side of the fur and of course measure from the saddle to the nose.  A tie (or line measurement) went to the lower grade by length.  Here is a solid XL, no mistake about that one.  All the tough calls come from those that hit "on the line", do you toss it in the bigger size or the smaller?….Hey!  What did I say?  A tie goes to the smaller pile!
We were very critical about our grading into size!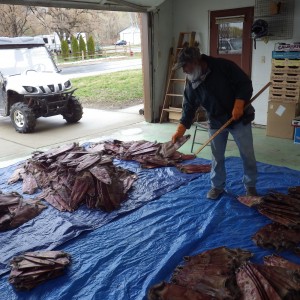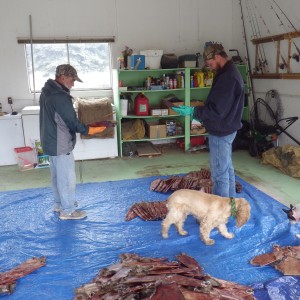 As we neared the end of the grading by size, Weasel broke away from his busy computer business in order to help.  A welcome addition, as Bob was beginning to interrupt and question how I was doing the measuring.  Yes, I was being critical, Yes, I was being partial, Yes, I was measuring the belly side and not the back…At least I was consistent!  What's more is I wanted our count to reflect a tough grade, not an easy grade.  If I had wanted an easy grade I would have insisted that Bob grade them!
So, when we are all done we have several piles of rats, all sorted by size!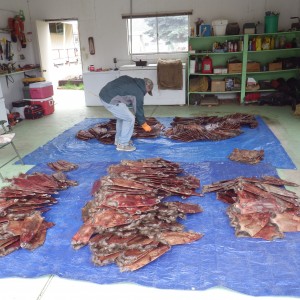 NOW, those are good looking piles of rats!  Guess which one has the most rats in it?…..Large of course!  Which has the smallest number of rats in it?  2X large…that's to be expected!  What about the next smallest group?  In this case the "smalls"!
It sort of goes like your school days grades…a certain percentage of the students are over achievers, a certain percentage or under achievers, the majority are average and the rest sort of just fill in between the over guys and the under guys.  And so it is with our rats.  What about the counts by sorted sizes?
Let's start with the Pile farthest to the left <– Those are the Smalls…18 of them!  Next to them is the 2X Large…8 of them!  Behind those two piles are the Mediums….84 strong!  Behind us are the Xtra Large…119 of them!  (Yeaaa) and the big pile is for the average size,  LARGE!  504!!!!  Add them bad boys up and you have a total of 733!  It's no wonder we carry side arms out in the field when we are trapping!
So, I'm sure you are interested in the percentage of big, medium and small we have in our catch…here are the numbers!
Small 2.45%, Medium 11.46%,  Large 68.76%, X Large 16.23% and finally 2X Large 1.09% (2.45+11.46+68.76+16.23+1.09 = 99.99)
I have told you that without knowing how many, I was guessing that we had over 90% large plus…well, I was wrong…we have 86.08% that are Large or bigger!  My bad.  But to be so close…I pat myself on my back…OOOOOOO, that feels good!
So, next is the breakdown as to how many DAMAGED rats we have!  Damage is always a matter of who is looking at the hide.  A slightly broken skin for some is "bad damage" ("he" says that!)  Any mark at all is "BAD"!  ("He says that too"!)  And other graders look at the mark, the tear, the hole, the damage and consider where it is located, on the end, near the nose, near the tail, near the side, near the ear, near the edupus erangularis…where ever and will say…it's a NO call…no damage or slight damage.
SO!  We decided to take the "He" side of things and grade our damage according to "him"…any mark was bad and any mark constituted a toss into the "damaged pile"!  And then once that was done, we went through and sorted that pile into what we called "Bad"  and "Slight"!  Oh how tough it was to remove ourselves from "his" way of thinking and into the reality of reality….NOT!
I would like to be a rat hide grader some day, but I am too old to get into that profession.  For now I'll just have to be entertained by this method of having fun.  It's going to be very interesting to see the results of this auction and how we graded and how they graded our hides.  It's all so new, we can only speculate.
Speaking of speculating…"he" didn't show up today.  Sorry…my bad…another expectancy of mine that did not come to fruition.
We began sorting the size piles noting any defect at all, and if we saw a tear, a rip, a mark, a nick, a "anything", it went into a separate pile…no marks at all went into another separate pile, again keeping the sizes separated from the other piles.  Once that was done, we carefully went through and analyzed the marks, nicks, holes, tears etc., their placement withing the hide (front/back etc.), the size of the hole, tear, nick etc. and decided if it was a "bad" or a "slight" damage.  We leaned toward the "bad" side and came up with these numbers:
Small:  3 Slight/1 Bad:  Medium:  11 Slight/6 Bad:  Large: 93 Slight/45 Bad:  X Large: 17 Slight/12 Bad:  2XLarge : 1 Slight
When you toss the mathematics at these numbers you see there was a total of 25% damage factor in our mix…however, keep in mind we were VERY critical of our inspection and ANY mark was counted in the damage category.  A second look at all the "damage" yielded the numbers:  Bad = 64 and Slight = 125  (a total of 25%), but the breakdown yields Bad at 8% and Slight at 17%.  How the guys at the auction house grades them will be a different situation.  When you consider it the "run" time of year, a damage of 25% is very low…again we were very critical to count EVERY mark we saw on the hide regardless of where we saw it.
We feel VERY good about sending our hides off to auction and are looking forward to the end results!
When we were finished with our inspection and separating them by size and grading them via damage, we jumbled them all up and began to count them out for bagging.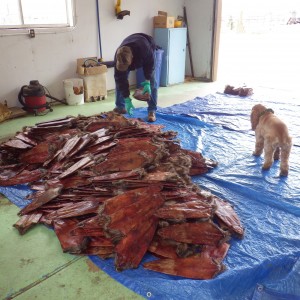 We counted them out in piles of 10, and then bagged them 4 stacks of 10 each, across in the bottom of the bag,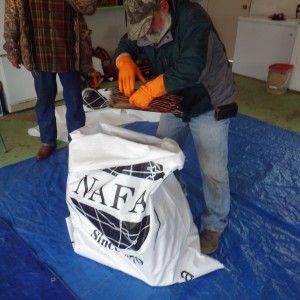 staggering the noses of the rats and stacked them 5 high…200 to the bag!  Marked the tags accordingly and they are ready to ship them off!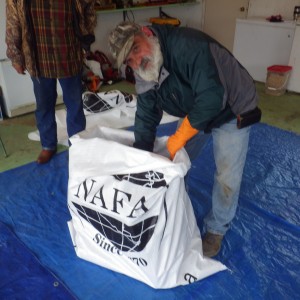 When you think about it, the amount of time it takes to put your hides in the bags and make out the paperwork that goes with them, WHY would you ever NOT want to ship your hides to the auction????  Why have WE sold ours to the local buyer when it is SO EASY to ship them off????
I guess we still have something to learn about all of this, but right now we are questioning our past intelligence.
Bears Butt
March 26, 2014