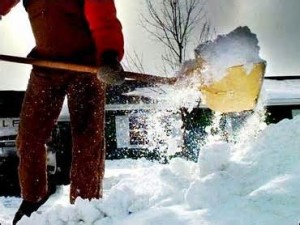 I think someone up above is playing with me…we awoke to about 4 inches of fluffy white snow this morning.  My plan did not include shoveling snow today.
Am I supposed to be THAT flexible to include moving snow today?  I will go out and shovel my driveway and then make my decision to plow or not.  If I plow then the Sweetbreads on the stove will have to wait until late this afternoon.  I'd rather stand at the sink and pull sweetbreads apart for 4 hours than plow snow for 3 1/2 hours.  Have I ever told you how I hate to plow snow?  I think I've mentioned it on here before.
I have a pot of sweetbreads that includes 9 packages of the delicious little guys boiling as I am typing and they are my priority…sorry neighbors, it will melt by July I'm sure.
These sweetbreads are part of my trapping preparation this week, just like my atv trailer was yesterday and my newly developed trap is tomorrow.
Gotta go for now!
Bears Butt
February 4, 2014