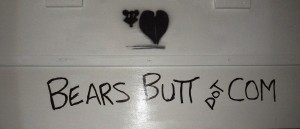 This picture is of my new toy hauling trailer rear gate!  Can you imagine yourself following me and my trailer down the road?  Almost brings a tear to your eye doesn't it?
The trapping season for me will begin next week, probably Monday and from that day until I finally pull my traps I'll be totally consumed with trapping and the activities that come (go) with that.
Bob has lined up Brek to be our skinner again and he will save us a bunch of time.    We have a much better plan this year than we have had in the past and the quality of the rat furs should be much better.  Not that we haven't had the top lot every year, but we plan on doing a much better job of drying the furs and maybe even combing them before putting them on the stretchers.  Sure it will take more time, but we should net a very high price at auction by doing this extra step.
So, this week will be mine to get everything ready for the trapping season.  You think all that would have to be done is toss some traps into the truck and go, but that is not the case.  I have an atv with the snow plow still on it and the weather is calling for a chance of snow every day this week.  When do I dare take the plow off  ?  The trailer needs the bearings greased and the lights checked.  The traps are already to go, but I'll need to go cut some extra stakes.  The rats always tend to eat a few stakes during the season.
I made a special trap that I'll show you when I get it completed.  It's called a floating colony trap and I sure hope it works.  If it does it has the potential to capture 10 or more rats in one night.  How awesome would that be?  I'll have a lot of experimenting to do with it to make it work, but that will just add a little bit more fun to the trapping days.
Besides getting ready for trapping, I have a bunch of little things to get done around the house before the first setting day.  I'll have a busy week!  It's already started!
Bears Butt
February 3, 2014