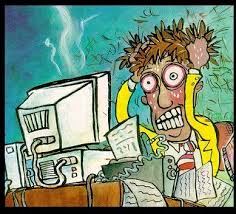 These computers are really something else.  I remember when I was working (at a real job) and they brought in "MY" computer….it took the tech guys almost all day to get me hooked up and running.  And then in came the sweet little gal to teach this old dog how to operate it.  I didn't have any clue as to how this thing was going to help me.  I was new to my job (the boss) and I was eager to learn and then to show "my people" how to make their computers work for them.
The whole deal of modernizing our office was in the hands of a few.  We were to become what eventually was state of the art in the world of aerial photography.  And here I sat, in total obliviousness!  The gal showed me and I took lots of notes.  She kept saying, "Now don't write down your password!  Someone could come in and find it and get into your computer and really cause a lot of problems"!  But, how in the heck could I remember my password?  After all, by tomorrow I will have forgotten it.  Unknown to her I did write it down on a sticky note and put it in a special place only I could find it.  I used it every day, until finally I could remember it.  I also remember after a year of using my computer I had sticky notes all around the screen.  Notes of every kind!
Now, it seems like the computer is something I just can't do without!  I use it every day…well, every day I'm not hunting or camping or whatever, away from the house.  But if I'm home, I use it daily and some days….ALL DAY LONG!
It can get frustrating and I really appreciate when someone calls and says something I have sent them won't print.  Today was one of those days.
I sent out a "jpeg" file of the Super Bowl Board…gambling is illegal you know, so keep this one quiet….besides we aren't gambling…we are going to enjoy watching a football game and have to have a reason to watch it…that is why we have this board.  It's our incentive.  We could care less if the Broncos or the Sea Hawks beat each other up and one of them wins.  What matters is if our square on the "incentive" matches with the score when the game is done.
So, Muskrat was having a time trying to print the jpeg attachment I sent yesterday.  He was sort of "fit to be tied" and called asking if I could redo the attachment in "pdf" format and resend it….Of course I can.  I had to ask Winemaker how to do it, but together we got it done and off it went as another attachment to an email to Muskrat.
I waited a few minutes and then called him to make sure everything was alright.  He was sitting at his computer and just opened it up.  It was important that he get it printed and have it in his hand when he met the "boys" at the coffee shop this morning, I completely understand.
As we conversed and he was working diligently on his end talking to himself as he went…the mumbling kept reminding me of myself when I first started playing with my computer at work.  I also went on a short memory lane trip in my head about how fascinated I was the first time I sent an attachment from my office to an office in Washington DC….the person was on the phone to me and asked if I could sent a certain file I was in charge of keeping updated.  I sent it via the computer and while she was on the phone, she said…"OK, I got it!"  And the amazing thing was that I had just pushed the "enter" key…zingo!  She got it!  That was my first mouth dropping event of the "new age" of computers.
So, today as I listened to the mumblings on the phone I could not help but grin and think about what he was doing trying to get the document to print.
As it was looking very promising on his end, he related a story about "last week", when he was having printer problems.  He said he printed these things over and over and nothing would come out of the computer.  His frustrations got the best of him and he left the room.  Later in the day, or the next day or whenever, he came back into his computer room and had pieces of printed papers all over the floor and in the printer catch bin!  How could I not laugh at that?  I laughed and laughed!
So, with my coffee cup in hand, I solute you Muskrat!  Job well done!
Bears Butt
January 26, 2014