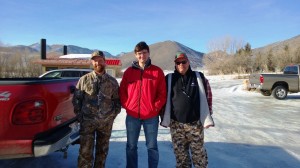 About noon or so, up pulls this red truck into my driveway.  Actually up backed this red truck into my driveway and out of it came Weasel, Austin and Brian…they were on their way ice fishing and needed to borrow some of my stuff.  I had been invited, but decided to stay home because of "stuff"….you know…"stuff".
Well, they took the things they needed and headed off.  Soon after they left, Winemaker came home from what she was doing.  Her first comment to me was, "Why didn't you go ice fishing"?  My response, "Because there is 'stuff' that needs to be done".  "What stuff"? was her response.  I had no answer.
Almost immediately at that, my phone rang….it was Weasel…Hey!  Dad, you are missing it…We have caught 10 fish already….You need to be here…I'll see about that with your mom…maybe I will come up, maybe not.
I turned to Winemaker and said, That was Brandon and they are catching fish like crazy, do you mind if I go?   Not at all, I thought you would go while I was gone earlier……
I'm all over this now.  A quick change of clothes, throw stuff into the truck and then realize we should probably eat lunch.
So we had a great lunch of leftovers and then I was outahere!
By 1 p.m I 'm on the ice with them and they have a BUNCH of fish laying there.  KEEPERS!  And all bluegills!  Half the size of dinner plates.  I have not seen bluegills so big in a long time.  I'm excited to get into the water and they have drilled a hole and cleaned it for me…I told them they only invited my for my quarters.  And was quickly told there was not any betting going on, just fish catching.  Too fast of action!
So, I dropped in with my usual….nothing….in the mean time, they each catch a fish….I stay with my usual…nothing.  How high up?  One crank….I drop down and one crank it….nothing.  They each catch another fish….OOOOOOOOOOOOOOO…..I see that they each have the "secret lure" on!  I pull up and grab my pole with the secret lure and bait up!
I drop the secret lure in and hit the bottom, one crank…BAMMMM!  Fish on!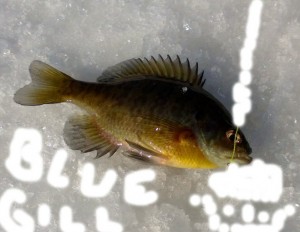 Of course the fish is small, but you get the idea!  Sometimes you have to sort through the small ones to get the keepers!
This guy was about 8 inches long and didn't have enough meat on its bones to make a bite for a meal and so it went back.  LOTS of them went back!
And when we got back to the truck two hours later, there were at least 25 keepers in the bucket and Austin was about to have his best fish meal ever!  Fresh caught Rocky Mountain Blue Gill!
As you can see from the picture it looks like the "secret bait" is a whitish blob.  You can pick those up almost anywhere good fishing stuff is found!  (smiley face)
I only fished for 2 hours and had a blast.  I probably caught 10 or 15 fish and only one keeper.  But everyone around us caught fish.  Even those without the secret lure!  So, don't think that just because you don't have one of the secret lures you can't catch a fish or two, don't let that stop you from going fishing!  DO!  There are only so many more days of ice and then we will have to wait until next December to enjoy it again!
Happy Fishing…Oh, we were at Mantua!
Bears Butt
January 24, 2014