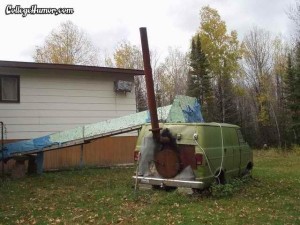 Yesterday Winemaker and I were sitting in our usual spots enjoying our morning coffee when she said, "It sure seems cold in here this morning".  I checked the temp and sure enough it was only 63 degrees…brrrr!
I went to the thermostat and it was set on 68, just where it's been for a hundred years, so I kicked it up to 75, pulled the cover off it and blew out the dust!  I thought maybe a spider had crawled in there and gotten himself between some contacts or something.
And so the day went on…later I told her I thought I could hear something strange with the noise the furnace was making…you could hear and feel the blower working, but then there would be pulsing noises like it was trying to fire up and then it would shut itself off.  This would occur about every 10 seconds.  On…Off…On…Off.   She could not hear what I was trying to describe….until this morning!
When she heard it her first comment was…."We need to call Scott and get him to come and look at the furnace"!
Scott Pettingill is his name and he lives in Brigham City.  He owns Box Elder Heating and Air Conditioning and he was the man who installed the furnace and central air in the old house.  I have worked with Scott quite a bit over the last 10 years or so.  A good, reliable and reasonable heating and air conditioning man.  He knows his business and doesn't bite the hand that feeds him!  If you want fair and honest!  Scott is the man…435-723-3151
It was about 7 a.m. at this time and so I texted his number asking him to call me when it was convenient.  My phone rang less than 15 minutes later.  I told him we had an issue with the furnace and he said he would be out about 8 a.m.
At 7:55 Scott pulled into the driveway!  Grabbed his small bag of tools and headed for the basement.  He stood there listening to the noise the furnace was making and said…"We have a water problem"!
Our furnace is going on 19 years old and it is of a type that creates condensed water and that water drains into our floor drain in the basement.  Scott knew right away the water was not draining.  Something had it plugged and the way the furnace is designed, if something in the workings of the furnace is not right, the sensors tell it not to operate.  So, as a little bit of water would drain through the plug, the furnace would ignite, then when new water built up to the stop point, the furnace would shut off…thus the On again, Off again stuff.
Scott found a drain plug on the main drain, opened it and drained out some very ugly stuff!  That ugly stuff was little bits of rust mixed with water and over the years it has been building up until it completely covered the main drain pipe outlet.  Who would have thought?
So, with all the BS'n and stuff, Scott was here about an hour….his charge?  $40!
The furnace is working just like new, the house is warm and the thermostat is set back to 68…Winemaker has a big old smile on her face, I have a big old smile on my face, MaPa's is looking at us wondering why we have big old smiles on our faces, and Scott is off to another job!
Does it get any better than that?
Bears Butt
January 24, 2014