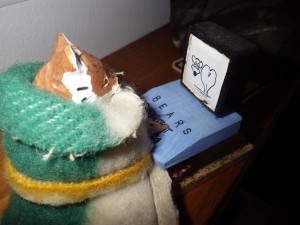 BEEP!  BEEP!  BEEP!  BEEP!  GOOD MORNING VIETNAM!!!!!
Well, not quite, but we did discuss some of what occurred over there last night while sitting around the camp fire.  It's Wednesday morning and the coffee is tasting very good again today.  What is the plan?  Well, to kill an elk is always the plan, but we only heard elk yesterday and the direction they were running makes you wonder if maybe they didn't go back into the area where I got my shot the first evening of the hunt.  Maybe we should go over and look in their again today.  But then Weasel did stomp through there last night right after dark and he did say he heard something running.  I don't know for sure what to do right now.
We know there are elk still around us and with the moon being almost full, we could have had more move in while we were sleeping.  Let's go up the road and this time sneak in to look at that clearing where we spooked them yesterday morning.  Maybe we will see them this time.  If not, we will continue up the road to the last road branching off (Hammer camp), take a look in there and then work back down and go for a walk to the watering hole that Weasel saw last night while up on the side of the butte.  We have not seen that water hole up close yet.  Is today the day?
Our spirits are pretty high still and we have lots of days left to hunt.  The sign is still in the area and it's pretty much all fresh.  We have even seen elk hoof prints in some of our own boot tracks.  This is good stuff.  There is no sense leaving camp until we can see our sights as the elk could be right around the corner.  After all we are camped next to a big watering hole but the only animals visiting it are domestic cows.  We have even dusted off the trails leading to it and only seeing domestic cow tracks when we check them.  Are these cattle keeping the "real animals" away?  We don't know for sure, but we do know there are lots of watering holes around here and the elk don't seem to mind the cattle.
At first light we are in the truck and putting up the road at a snails pace, hoping and wishing a big bull elk would show itself.  We make it all the way up to Hammer Camp road and don't see anything except more tracks.  Tracker wants to video us coming out of there and so Weasel and I sit in the truck and wait for his signal.  Then too our right and up on the side of a butte, I see movement.  I bail out of the truck and put the glasses on it…a bull elk!  And there is another behind it!  Wholly crap, look at the size of that thing!  It almost dwarfed the first one.  Both of them are traversing the side of a very steep butte and going around the end of a finger of the hill and out of sight.  Dang nice bulls right there!  Well at least we saw some today!  No way for a shot as they were 6 or 700 yards out and up, but we saw them!
We radio Tracker who comes back to the truck hoping to get some footage of the beasts, but they were long gone by then.  So, down the road we went, stopping once to try and get another view of them from the other side of that finger…no luck.  From their angle they could be anywhere over on that side and a mile from our position.  Just like Night Fisher said, they like to find the deepest and nastiest stuff to hold up in during the day and those two brutes were headed right into the thick of it!  Not something for the faint of heart I assure you…did I tell you I was feeling faint?
Well, we slowly drove down to the place we spooked them yesterday and made a slow and quiet walk out to where we could glass the opening.  We used the trees for cover and did not just walk down the road like we did yesterday.  Nothing.  So, now is the time to walk down to the second water hole, the one Weasel saw while high on the side of the bluff last night.
Our hike didn't take too long and we saw a ton of elk tracks along the way.  In the water laid a wheeled devise used to help a hunter get a critter out of the back country.  Apparently it developed a flat tire and the hunter decided he had had enough of it and pushed it into the pond.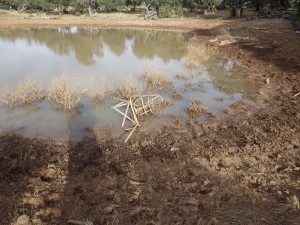 Most of the tracks we saw around this pond were domestic cattle, in fact as we cautiously approached the pond a group of them got up quickly and stampeded off…Tracker said, "Hell we can't even sneak up on tame cows"!  I think they smelled us…heck we haven't had a bath since last Thursday!
Continuing to explorer the area around this pond, we went to the edge of the mesa and the view was spectacular, like always.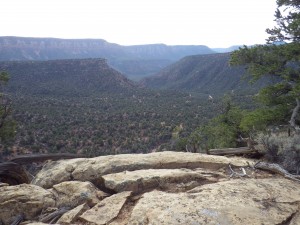 You know beyond all doubt the elk are down in there.  We glass a while but my heart wasn't into going down into there to look around, what if we nailed one down in that hole?  Would it really be worth it?  I know that Night Fisher would go down in there in a heart beat!  We decided to look somewhere else and turned around and went toward the backside of Cathedral Butte.
The saddle that connects Cathedral Butte and the next one on the South (I'm going to call that one Night Fisher Butte, just because he was the one who spotted the first elk of the hunt on the side of it), was where we thought Whitey had taken his herd over last Sunday.  Now we are on the back side of it and I wanted to go and see just by chance if that herd of elk might be coming in this direction again.  It's very possible if they were out in the clearing all night, they might be coming our way.
So we decided to take a little hike and see if we could find their trail.  It didn't take us long at all to find the trail…four feet wide and tore all to heck with elk tracks.  Sure enough, Whitey had lead his entire herd up and over this saddle just like we thought he had.  We continued to follow the trail and all the while I was hoping we would see that big cuss coming our direction.  It didn't happen.
We found a way cool wash that was quiet to walk down and that was a big part of the trail the elk had used.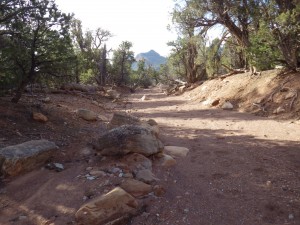 We stayed on their trail, all the while keeping a close watch for movement and being as quiet as we possibly could.  At times we had to take off layers as the sun was getting up in the air and it was a pretty warm day.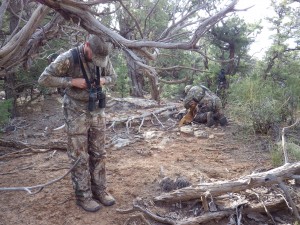 We are standing in the trail right here and with all the trees around us, we would have had to of been right on top of an elk to see it.  I'd call this "Thick"!
Well, our short jaunt to see the pond ended up with us hiking all the way around Cathedral Butte, past camp and eventually back to where we parked the pickup….6 miles.  None of us felt the worst for wear, but it did devour the day.  We went back into camp to cook up our hot dogs and decide what to do for the evening.
While at camp getting the hot dogs ready we talked about "tomorrow".  Tomorrow is Thursday and we had planned our stay through today, Wednesday.  Our evening meal of burgers tonight will exhaust our provisions.  We needed to take an inventory of our supplies and plan a trip to town tomorrow to stock up.  Weasel got out his inventory computer and began to input our grocery list.  We made up a menu to include more steak, burgers, hot dogs, bread, whiskey and beer.  We had some left over chicken from the Rabbit Chicken night that would do us as a noon meal tomorrow on our way into town.  If we made it part of the plan to be on the road off Salt Creek Mesa by 10 a.m., we could make the 2 hour trip to Monticello, spend an hour shopping and the 2 hour trip back and be back for an evening hunt by 3 pm.  That's the plan for tomorrow.  What about this evening?
The plan was made to go back up as far as Hammer Camp and then slowly come back down past camp and down to the lower road we had seen and been on briefly a couple of day ago.  This will take us past the clearing where I had gotten my shot last Saturday as well and in fact would completely cover the road through Salt Creek Mesa from end to end.  How could an evening drive be any better?
We went up to Hammer camp and turned around and started our slow drive back down the road.  Suddenly Tracker calls out " STOP THE TRUCK"!!!!!!  He bails out and picks up a really nice drop horn!  Right off the side of the road!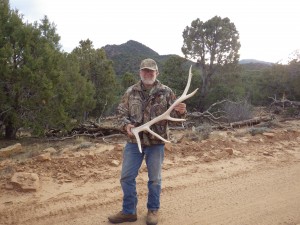 How much better does it get?!!!  Good eye Tracker!  A fine drop horn if ever I have seen one!  A fine thing to find as the day is coming to a close.  You would expect to find something like that on a six mile hike, but never right next to a main dirt road.
We continue to travel down the road and take the last side road that took us out and across a flat and very close to the base of Bridger Jack Mesa, East of our camp.  There we decided the day was over.  The sunset behind Cathedral Butte was a show to be seen.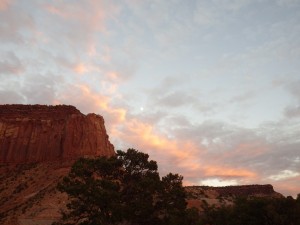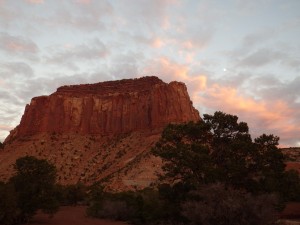 And as the sun continued to set it just got prettier!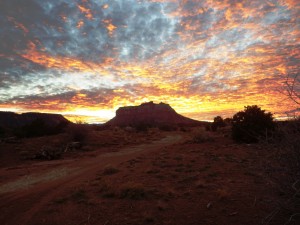 What a nice place to be on such a beautiful day!  Thank you God for sharing this with us.
And just like all the nights before, it got dark quickly and we found our way back at camp once more.  Tracker put his fine find under the beaver sharns and we went back to camp living!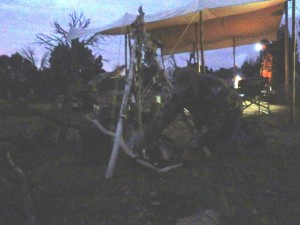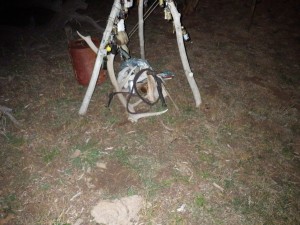 Tonight's meal is a simple one and basically the last of our food…burgers on buns, with a slice of onion and lots of chips and beer.  YUMMY!
And by the looks of this picture the troops were very hungry!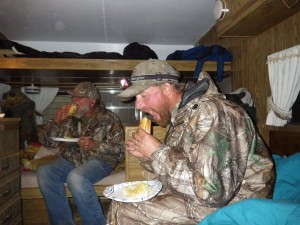 After that 6 mile hike we  were all very much ready for bed by nine and so it was lights out!
Alarm set for 5:15 a.m.?  Check!
Bears Butt
Nov. 20, 2013