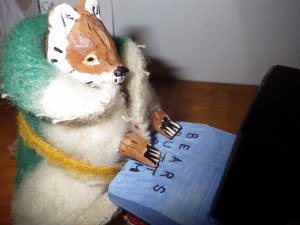 Monday morning, November 11, 2013…Happy Veterans Day to all Veterans out there!  In our camp we had a toast with hot coffee and a small sugar frosted roll.  And then as light became apparent, we said our goodbys to Wapiti, Softball, Edjukateer and Night Fisher and the three of us headed down the road to Uncle Bob's place.
We got to the bottom of Uncle Bob's at a perfect time to catch any game coming up out of the fields below.  We saw literally hundreds of deer!  Most of which were not too afraid of us and just walked or hopped out of sight when we got too close.  No sign of elk which was disappointing.  Our minds were made up quickly to get back and break camp.  With so many elk having been spotted up in the Salt Creek Mesa area, we just had to make the move.  So, we headed that way, gassing up in Monticello before proceeding up to camp.
We got to camp to find that the others had already pulled out for their drive home.  It was a bitter sweet moment for us to see them gone.  But things have to happen and that was one of them.  It was about 8 a.m.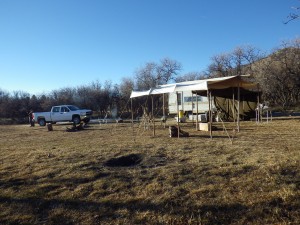 We had plenty to do in order to get packed up and over to Salt Creek Mesa and re-set up the camp.  We wanted to have an evening hunt over there as well and so the pressure was on to get things done.  We also talked about how we were going to pack up.  I suggested we just make sure something won't fall and break while in transit, but that we would not be going really fast and so things didn't have to be put back into its proper place nor stored as if it would be a year until it comes back out to be used again.  By 9 am camp looked like this: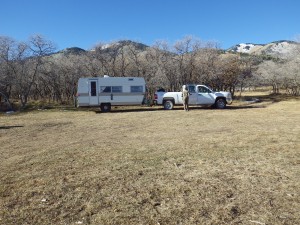 Let's go guys!
And off we went.  I guessed it would take us a full 3 hours to reach the Salt Creek Mesa area and find a camp site worth the move.  Just after turning off on the Beef Basin road there is an abandoned mine which we have passed every time we went over to the Salt Creek area.  This time we stopped to look at what it was all about.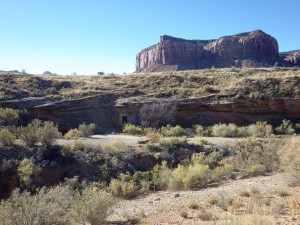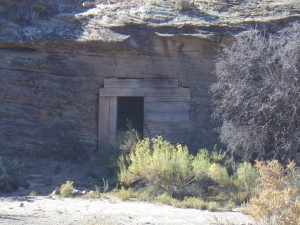 It's my guess that this is where they stored their powder and other supplies, but what do I know about mining?  Nothing!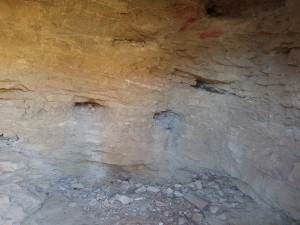 There were a lot of evidence of critters big and small that live in there and I'm very glad we didn't have to sleep in there tonight.  The packrats just might have taken the family jewels…so to speak.
The mine entrance has been blocked off by a large steel gate and with all the sign around it, there have been plenty of lookers visit the place and I'm certain many of them would have ventured down into the mine and may have been killed down in there.  So to have it blocked made perfect sense to me.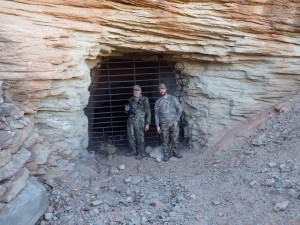 We also discussed the fact that in the evening we bet the bats coming out of there would have been quite the site to see…let's go before they start coming out!  I don't want any of them getting tangled in my curly locks!
It's funny how the sun angle on the rocks makes things stand out or change during the day.  We have been past these rock cliffs several times and only this time did we see this: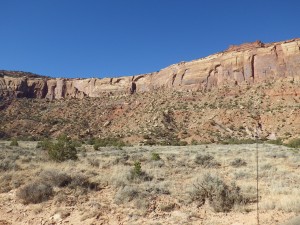 Can you see it?  The face.  Not the face of the cliff, but rather the face IN the cliff.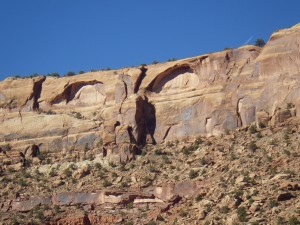 The "Alien"!  It reminded me of one of the women in a van we saw on Saturday morning, just saying.
Well the road in was just as bumpy as it has always been, and even more so with the trailer.  A few spots where I wasn't sure the black water holding tank was going to survive, but we did clear them and I made a couple of mental notes of areas I'd have to watch closely as we came out.  The drive in was slow to say the least.  At a point very close to our destination the road gets very narrow and only one vehicle can travel through there at a time.  Tracker decided it would be way cool to get a picture of the top of the rig as we went along….oh my.  I let him out and about 5 minutes later he radioed that he was ready.  What caught me by surprise was that he was standing on a piece of rock ledge that looked very UNSTABLE!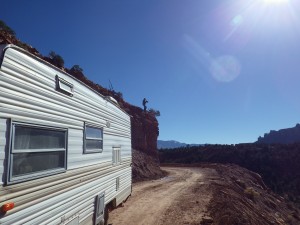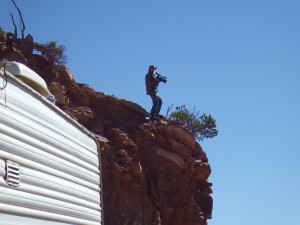 I'm sure the footage will be worth it when the editor gets through with it, but I can tell you at this moment my feet were hurting really bad (to tell you the truth, they hurt right now just looking at the picture)!
Our adventure was about to come to an end with this camp move and I was looking forward to a good old cold brew.  No brews until camp is set up boys! It was almost exactly noon when we arrived at this spot!  3 hour drive.
In the shadow of Cathedral Butte, we found a nice big watering hole and a very nice camp spot.  We looked it over really good and made the decision to plant ourselves right there!  Camp was set up and ready to go at 1:30!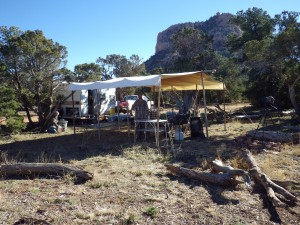 With Cathedral Butte in the background we all felt like this was a new beginning for this hunt.  And it was. There are lots of signs that tell you when things are where they need to be and I believe this was one of them.  Please do not touch the rock wall:
Camped in a great spot, surrounded by fresh elk sign and the rest of the afternoon to goof off…where is that cold drink?
Exploring around the camp and doing a bit of sprucing up we discovered quite a few things of interest.  A couple of old bleached out elk shoulder blades, a small buck drop horn and this: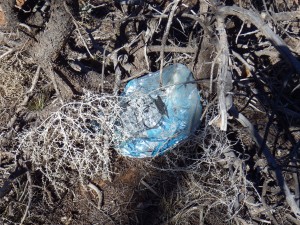 A mylar balloon from someones graduation.  A sure sign that Edjukateer had wished this camp would be ours to enjoy!  Thank you Edjukateer!  Close by there were other camp occupants even though we didn't see them.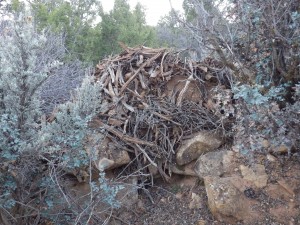 A very big packrat home.  Keep track of your jewels guys!
And once we had explored around the camp and picked up what trash there was (and there wasn't that much), we kicked back and enjoyed ourselves.  During our kick back time, Tracker wanted to show off the surrounding scenery for his video.  And that took a little bit of time, but what the heck!  We have plenty of time.  We are minutes away from the place where I shot at the big bull on Saturday and our total drive time from one end of the Salt Creek Mesa to the other is less than a half hour.  We have it made in the shade baby!  Made in the shade!
We made another command decision (we make lots of those), and that was to eat our supper before heading out for the evening hunt.  And what would that supper be?  None other than Wapiti's own…"Rabbit Chicken"!
I pulled out the dutch oven and browned all the pieces really good.  Took the chicken out, turned down the heat, put in a trivet to keep the chicken off the bottom of the pan, put the chicken pieces back in and added a can of the best cooking beer in the world…Olympia!  Then back on went the lid and we let it simmer for about an hour on low heat!
Here we are in a new environment wishing the rest of the guys could be there with us and of course we made a toast to their safe trip home.  If I recall correctly, we made toasts to a lot of things that afternoon.
As the afternoon started to turn to evening we decided we should make a run down the Salt Creek Mesa road and try and find a bull elk.  We made the run, but didn't see any elk.  The scenery was great though!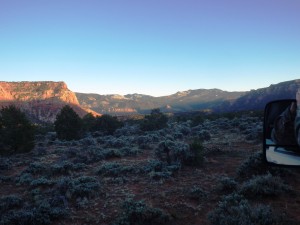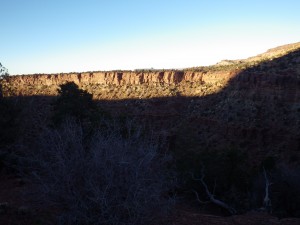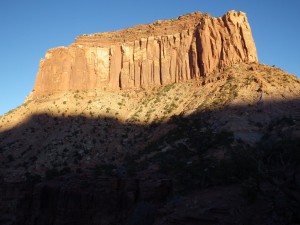 And just like days gone by, when the sun decides to go down, you suddenly find yourself surrounded by darkness…and back to camp we went.
With supper already behind us, we had all night to talk about what was in our pasts and what was being held in our futures.  We employed the "apparatus",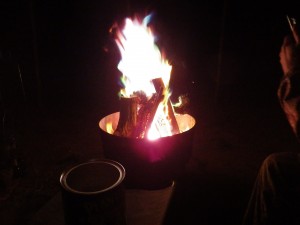 and built us a really nice "Ora Boriallis" flame!
A perfect ending to an almost perfect day!  Maybe tomorrow the Elk Gods will smile on us.
Alarm set for 5:15 a.m.?  Check!
Bears Butt
Nov. 20, 2013