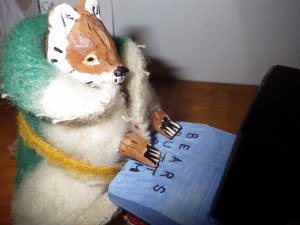 Awakening at 5:15 a.m. on Friday, November 8, 2013, the boys in the Butt's camping trailer are full of excitement.  Dennis told us last night he would be at our camp early to take us around and show us the properties of Uncle Bob's and some of the surrounding areas as well.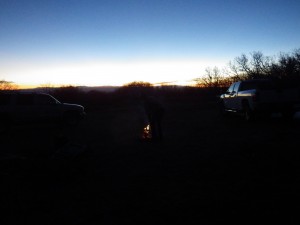 We do not know what "early" means and so we want to make sure we are ready when he arrives.  We are now officially in the San Juan Mountains and the air is clear and very crisp.  A scattering of hardened snow from the last snowfall in the area is holding fast in the shaded areas around the mountain.
From our camp, which is about 6 miles up the road from Monticello, we have a pretty good view of the old Blue Mountain Ski Resort that was put in many years past and failed because of lack of deep snow on a regular yearly basis.  We spent some time glassing for elk or sign of elk.  We also did some local hiking and found ubiquitous (seeming everywhere at the same time) wild turkey sign.  Softball did see a small flock in his travels and Tracker and I heard the distant gobbling of another group.
While we waited, we decided to gather up enough firewood to last us at least until Monday night.  There was plenty around us and all of it oak.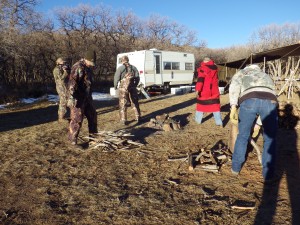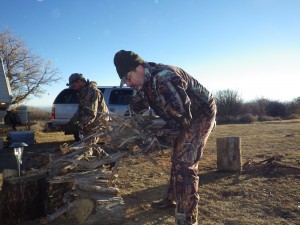 It was about 8 a.m. when I decided to call Dennis to find out where he was.  We were very anxious to get going.  He said he had to talk to his Dad and that took some time and now he was stuck in road construction, but he was on his way.  Little did I realize he was still somewhere between his Colorado home and Monticello…….
At 10 a.m. the boys asked me to call him again…he apologized and said he was nearing Monticello and would be at camp soon.  He arrived about 10:30!  (It's my guess he had that little black VW over 100 mph driving in).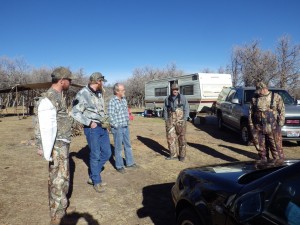 After a bit, we loaded up the truck and headed down toward Uncle Bob's place.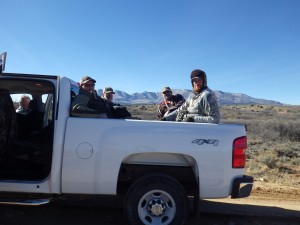 Uncle Bob owns well over 2,000 acres in various parts of the Monticello area and a lot of it is for sale at this time.  Wanna buy a lot of land for cheap?  Now is the time!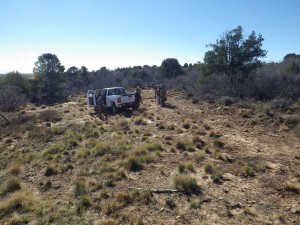 Dennis took us up near "the pavilion" area where a California college organization built a pavilion and some showers and bathroom facilities.  Uncle Bob had sold them the property for X amount, which they gladly paid up front and the remainder of Y amount would be made some time later.  Well the Y amount could not be gathered in time and so they relinquished the cash they had paid and turned the property back over to Uncle Bob….You could probably pick this property up for nearly a song if you wanted.  It's a very nice chunk of ground, covered with oak and cedar and a very nice pond.  Sign of game is everywhere, rabbit, deer, elk, coyote and it's right on the edge of town.
We took a walk around and when we got back to the truck, Edjukateer had found a broken off elk antler from a few years back: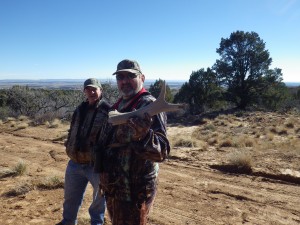 Next, Dennis wanted to take us to another of Uncle Bob's properties and while we are going in that direction he gets a call from his wife, Laura, she is almost to Moab from her trip back to Colorado from their home in Toquerville, Utah, near Saint George.
We get up to the other property of Uncle Bob's and look it over.  Dennis explains all the history of this piece and we walk it over looking for sign of elk.  Most of the sign we see is from deer, and while driving in and walking around we do see over 100 deer.  They seemed to be everywhere.  At one point Dennis said not to walk down "over there" as the place is full of little round cactus plants that like to crawl up your legs…we found them!
They have very long spikie spines and once they attach to your pant leg, every step you take has them actually crawling up your leg.  It takes a stick or something to get them off of your clothing and to reach down with your gloved hand only has them poke through the glove and get your hand.  Dennis told us a story of himself falling into a batch of them…he had them in his face, chest, back and all over him.  At the time he had a broken leg and slipped while hunting, causing him to fall into a batch of them…OUCH!!!!
By the time we finished looking over this piece of Uncle Bob's property Laura was waiting at Uncle Bob's house.  It took us a bit to get off the property and into town, where Dennis had to show us the BLM office, we needed a map of the roads where we might be hunting.
We went into the BLM office and the man behind the counter admitted their maps had a lot to be desired and that we should probably go see what the Forest Service office had.  We picked up one of the BLM maps and thanked him.
Driving over to the Forest Service office a few blocks away we stopped to see a refurbished "bean harvesting" tractor.  It has metal wheels that stand over 6 feet tall.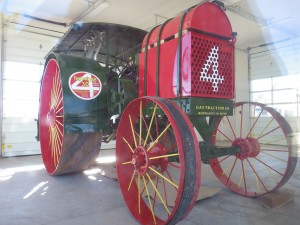 At the Forest Service office we bought a map of the entire mountain and headed back to Uncle Bob's house where Laura was patiently waiting.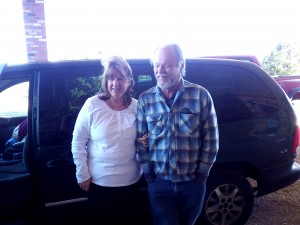 Laura had been traveling all day and was hungry, so while Dennis and she went on their way, we headed off to see some more of the local country side and look for elk sign.
Traveling up a road that took us past Floyd Lake we too decided it was time for a lunch break.  We pulled down a small side road and cooked up a hot dog.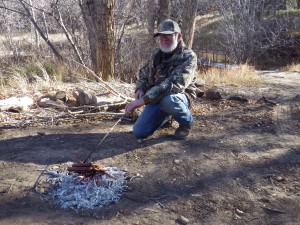 On an outing like this there just isn't much better to eat than a roasted hot dog or sausage, a hand full of chips and a cold drink!
When our hunger was satisfied, Softball thought it appropriate to take a picture of the guys in our group who sport a beard.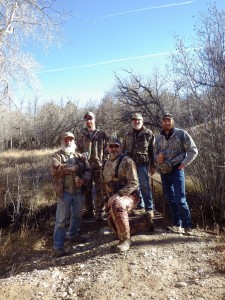 Step aside Duck Dynasty, your replacements have arrived! (place smiley face here)
On up the road we went, not knowing just exactly what was ahead.  The road was a very good and well maintained one, but very little elk sign could be seen.  We turned around at a rock slide area, where a good test of our camo clothing could be measured against the elements.  If we were very still and hunkered down it would be very hard to see us in these rocks.  The blue jeans really stand out.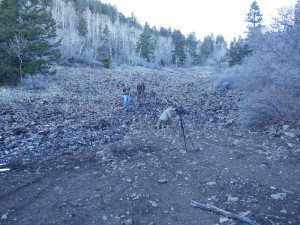 We learned early on, that when the sun decided it was going to go down, you didn't have much time left until it would be dark.  In the above picture the shadows were beginning to grow rapidly.  We decided it was time to head back to camp for the evening.
Going back, we stopped often and glassed the deep landscape for elk but saw none.
So, our day of scouting for elk sign came to a close and tomorrow would begin the hunt; my dream hunt for elk.
Softball got the fire going using what we ended up calling, "The Apparatus"…Here he is explaining it to Tracker earlier in the day: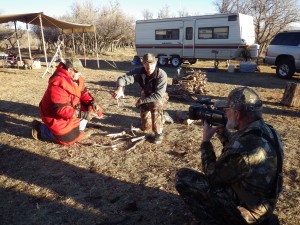 Softball created this little devise as an aid in keeping firewood in an upright position in the fire pit to allow air to continue to get underneath and keep it burning.  In our opinion he is on to something here and we highly recommend you contacting him and purchasing your own.  It works extremely well and allows the wood to completely burn and becoming nothing but ashes.  Good invention Softball!  The Apparatus!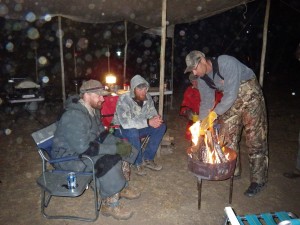 With the employment of the apparatus, Softball gets a good fire going under the dining fly and I went to cooking up our hashbrown spuds for the evening meal.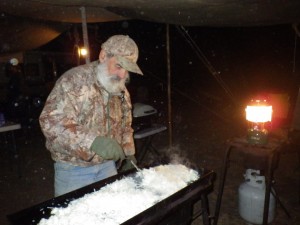 What's on the menu for tonight fellas?  Steak, spuds and garlic toast!  MMMMMM!  How can it get any better?
We retired to the inside of Wapiti's trailer so we could all be in a comfortable environment while we ate, and so we could talk about a strategy for the hunt in the morning.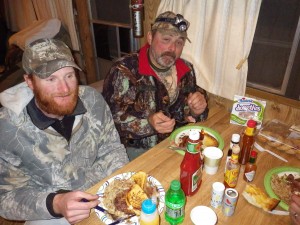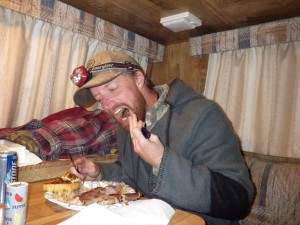 Where is Softball?  Is he like Colby Maughn…images of him can not be taken after dark…?
The discussion around the empty plates was centered around Uncle Bob's place and all the ground that Dennis had shown us.  The guys told me that it was my hunt and that where ever I thought we should go, we should go.  My mind raced for an idea, as it was getting late and we needed to get to bed.
I mentally poured over all the advise I had been given during the last three months of preparation.  I considered the fact that we had seen fresh elk sign on Uncle Bob's, some but not a lot.  I considered the fact that all of us had come down to this area having never been here before and that more than half of the group had to leave early Monday to go home.  Perhaps Saturday should be a day to see more of the country surrounding us.  One of the places suggested to look for elk is called Salt Creek Mesa and a place called "Newspaper Rock" was on the way to that area.  I decided we would head in that direction in the morning.
With that decision made, we all finished up our meals, cleaned up and headed for bed.
Alarm clock set for 5:15 a.m.?  Check!
Bears Butt
Nov. 19, 2013