Monticello weather:
Still under that winter storm warning.  Snow accumulations 5 to 10 inches, beginning at 9,000 ft and above and then dropping to 6500 feet later in the day.  Winds 20 to 35 mph, reducing visibility to less than 1/4 mile and drifting the snow.  Snow and ice packed roads can be expected at higher elevations.
Other than that a pretty good day can be expected.  High near 46, low of 31, with 30% chance of showers!
That actually sounds like a good day to make some ground soup and some home made biscuits.
Now I'll get off subject of the dream elk hunt, but I just have to tell you this.
Yesterday I had the pleasure to cut up a friends deer she killed out near Elwood.  She said it came out of a patch of corn and she dropped it in its tracks.  During processing it was plain to see the entry and exit holes and she really had made a great shot!  Only lost about 1/4 of one of the front quarters to shock.
Anyway, I have cut up a lot of deer in my time and this one has them all beat as far as fat goes.  It had at least 1/2 inch on its butt, which isn't such a big deal, but what was a big deal was the fat that was layered between the muscles.  I've never seen this before.  It made for some extra work to get it all cut out but I'll just bet this deer will be wonderful table fare!
Congratulations Shelly on one nice little buck!
9 days!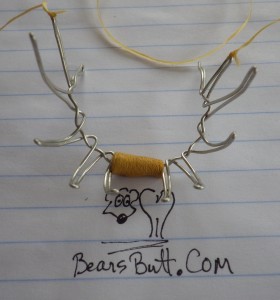 Bears Butt
Oct. 29, 2013