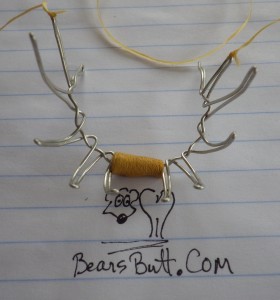 I'm new to this working out stuff and have only been doing it for about two months.  When I started I used a pre-programmed exercise setting on the tread mill, the first real workout setting.  As I recall coming upstairs after that grueling workout I told Winemaker, "Who needs a gym?  You have that monster machine down stairs to kick your butt"!!!  I was sweating like crazy and my legs were pounding with pain!  I sure was "in the element"!  30 minutes of agony, but I worked through it with all my thoughts on climbing up and down the red rocks of the San Juan, in search of the big trophy elk that is in my dreams.
This morning I decided to re-visit that first exercise program….30 minutes…max incline of 6 %….max speed of 4 mph….At 15 minutes into the program and having been walking at 4 mph for almost 5 straight minutes, I could feel my head starting to heat up, but not sweating yet.  At 20 minutes into it, the speed had been reduced to 3.5 mph and the incline was on a firm 6%, my first drop of sweat leaped from my forehead, followed by several more through the rest of the workout.  But, by the time the program was over, I felt like I had cheated myself out of a good time!  Not once had the excursion caused me to breath through my mouth…not once!  It ended way too soon and then it was on to stretches, push ups and sit ups.  I came upstairs and told Winemaker, it was not much of a workout.
Does that mean this workout stuff actually gets you into condition and that you get used to doing these things and they become easier and easier as you progress through them?  You can answer that, but tomorrow I'm going up to the max setting and hammer myself into shape!
Monticello weather:
OH OH!  Special weather statement!
Winter storm possible for portions of Eastern Utah and Western Colorado!  This storm will see snow levels running at or above 10,000 ft…with moderate snow accumulations confined to elevations above 12,000 ft…..blah, blah, blah, blah!
Other than that, a high expected of 56 degrees, low of 36.  Early afternoon showers with winds SSE at 5 to 10 mph.  Chance of rain 30%!
So, it looks like there could be some inclement weather high up that just might make the elk think winter is coming and push them down toward their wintering ranges.  If I was an elk that is what I would think, and I'd make sure I was near a good road in case it really dumped and then I could walk down the road to a more comfortable place….just sayin!
Today Tracker, Wapiti and I are going to be working on a modification to Trackers dining fly.  The beginning of the camp!  I'm loving it!
In two weeks time we will be waking up in the San Juan, Blue Mountains…the Abajo Mountains to be exact!
13 days out!
Bears Butt
Oct. 25, 2013