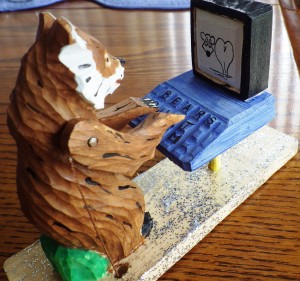 The day has finally arrived…the day we head for the mountains for the 2013 muzz deer hunt!  Camping will be in a different spot than we usually have as all the other spots have been taken.  We will be in a large meadow with very few trees, one we call "Monkey Dink" camp…that's another story.
We will make the best of what we have, as usual and everything will work out just fine.  Our main goal is for everyone to arrive safely, have a good and safe hunt and return to our homes in the same condition as we are leaving.
I had a great workout this morning, something I recommend to everyone.  I have lost about 10 pounds since beginning this routine and am feeling really good.  The only aches and pains are the ones the workout inflicts and they go away after about an hour after.  Life is certainly good!
We are 27 minutes from our pre-determined departure time and I'm quite surprised to have not seen Dry Dog by now.  The burritos are warmed up and ready to be put into the hot/cold bag for the trip up and over Monte.
Muskrat is expected soon, as is Weasel and Wapiti, with Soft Ball in tow.  Fat Duck is meeting us up in the parking lot half way up Monte!
Weather is calling for warm today with increasing winds this afternoon…winds in excess of 20 mph.  Maybe it's a good thing we aren't camping near trees…?!?
Beginning tonight, the chance of rain increases to 70% and will be with us most of the day and into the night.  High expected tomorrow in the mid 50's.  Then the bottom falls out of the temperature, with lows dipping into the mid 20's and highs in the lower 40's…Thursday and Friday.  A continuing of rain/snow mix both of those days and the snow level dropping to 6300 feet…guess what the elevation of Randolph is….6285!
April and the kids are coming up Friday afternoon late and I hope the snow level on Monte does not hinder her drive.
Muskrat just arrived…it's 7:38 a.m….time to get things finalized for the road!
Until I get back!  Have a wonderful time at whatever you are doing!
Bears Butt
Sept. 24, 2013