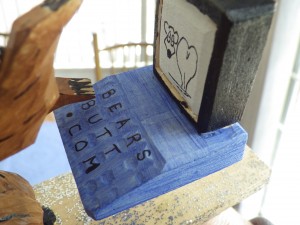 One day closer to the hunt!
Now is when things start to get exciting!  People coming in from out of town to get ready for the hunt.  The local boys and girls gathering up their things and packing them away.  It's really getting fun.  I've packed things I know I won't be using or needing for this hunt and am still trying to think of  "what have I forgotten" items.
There are always certain items you just can't pick up or pack because you are using them daily or there is no sense in buying it until you are ready to go.  That is part of the fun I suppose.
I have sharpened ALL my hunting knives.  Rubbed down my muzz rifle.  Installed my "cocoon" on the toy.  Made sure the kill jug is safely stored in the camp trailer.  Gotten all my gear sitting in a quick to load area of the house.  Double checked my possibles bag for all the things I know I will need.  Packed my spare clothes and made sure my beaver sharn is in the trailer, along with my sleeping bag and pillow.  Looked over all the batteries in all the two way radios, flashlights, cameras, gps unit and am planning on packing more in case the ones in the devises go dead.  Double checked the propane and made sure the camp chef is packed, as well as the grill and bbq box.  The EZ up is packed and ready and the lantern stand that Magpie made is ready to go into the truck!  Filled up the jug of chainsaw gas and got out a full quart of bar oil, changed the chain to a newer and sharper one.  Have the water jugs sitting where they will get filled with water at the last minute.  Plugged in the power and have the refrigerator all cold and ready for food.  Checked the air pressure in all the tires.  Greased up the hubs on the camp trailer and the toy hauler trailer.  Loaded up my toy on the trailer and have it ready for three more to get loaded.  Checked on the game gambrel and game bags.  Fixed a small leak in the potty drain system.  And have been watching the weather forecasts like a hawk.
By the way…it looks like a major change is coming to the mountains where we will be hunting.  Beginning the day of the hunt the high is expected to only be around 50 degrees, the low in the upper 20's and a 50% chance of rain…if the rain comes to the valley, it will likely be snow up in the mountains maybe as low as our camp!  Bring it on!
That leads to more gear to be packed!  Chains for the trucks!  Warm gloves!  Rain coats!  And covers for the rifles!
I'm almost ready!
Bears Butt
Sept. 21, 2013  (Weasel and Muskrats Birthdays!  Happy Birthday fella's!)