Took some time away from the computer to go and see if I could locate a bear…did that!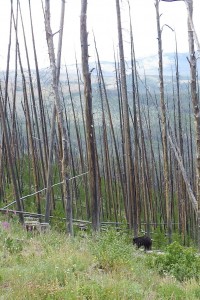 It was a rather surprising way it happened as well.  Of course anytime you are traveling through Yellowstone National Park at the max speed limit of 45 and suddenly rounding a corner you are faced with a traffic jam of Yellowstone proportions…this is what happened and of course we added to the congestion with our own two rigs!  We bailed out when we heard it was a bear they were viewing.  I made it quickly to the edge of the road an looked way down into the trees, some 100 yards and began my search…I could not see it…then something moved right below me about 10 yards…THERE IT IS!!!!!  Wholley Molley!  All the signs throughout the park tell you to stay close to your vehicle and only get within 100 yards of any bear.  This little guy was right under my feet.  I quickly snapped a couple of photos and grabbed the youngest grandson and headed back to the car!
That was the second most exciting sighting of the visit.  I'll tell you what was the best sighting but first I have to tell you some of the background.
Like all vacations it was with its bumps and jostles while we were there.  You can't put 12 people together, sharing the same lodging, riding around in two cars for 4 days and not have that sort of thing happen.  I do have to say the kids were all just about like angels for the whole time.  Very little bickering and I didn't hear even one "Are we there yet"?  Maybe it was partly due to our "game".
On the way to Island Park where we stayed in a cabin we rented: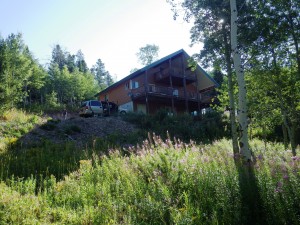 we started to list all of the animals that we could think of that would be found in Yellowstone National Park.  I think our list was about 65 in size and included animals like moths, butterfly's, snakes and turtles, as well as the big ones common to the area.
At the cabin we took the time to list each on a separate piece of paper and then made up a "bingo" like card out of paper, only we called it "Yello" instead of bingo.  Here is Sydnie with her ready to go Yello paper: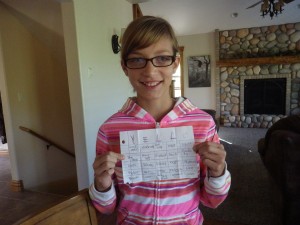 Everyone then went outside and found an appropriate "poking" stick.  Small enough to keep in your pocket or wherever and sharp enough to poke a hole in the square with the animal name once it was spotted.
With this as the focus for the 3 days we had to visit the park, off we went.  The kids and adults enjoyed seeing and poking out the names.  Some saw the animals and some didn't, but you had to see it in order to poke it out.
We all put something into a plastic bag as the "bootie" and as someone filled out a line or row they got to pick something from the bootie bag.  It was fun.
Our cabin was really nice and had sleeping arrangements for all 12 of us.


At first it seemed pricey, but once you figured alternative sleeping arrangements say at a campground or motel, it was actually quite a bargain.  A very comfortable place with two balconies to sit and watch the wildlife and weather from.  On our second morning there, Sherry and I were up getting breakfast ready for the group and Sydnie got up because she was not sleeping very well.  She went out on the lower balcony and came right back in telling me in a very quiet voice we had a moose visitor!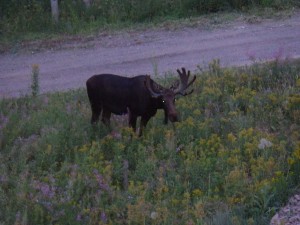 He stayed around and let us take a million pictures as it ate the purple flowers off the Penstemens …so we named him "Penns".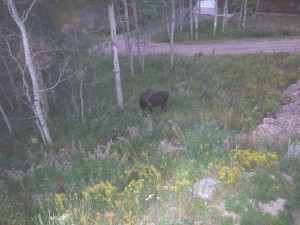 We could not mark moose off our Yello cards however, as he wasn't inside the park.  After a bit, he perked up his ears, looked to the left and wandered off only to be joined by a brother of his and the two of them ambled off toward the deeper forest.
We visited all the normal stuff that people go to Yellowstone National Park to see and it was important for the kids to see it and then if they ever want to go back they will have the freedom to go see the "not so famous" stuff that is found throughout the park.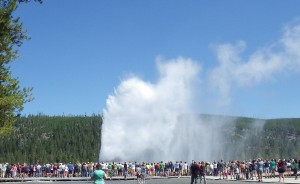 Of course one of those things that you MUST see is Old Faithful shooting up into the air. ( I took my Bug-A-Salt and was going to get a picture of me with it and Old Faithful shooting off, but I didn't think it prudent to carry my a-salt weapon into that area).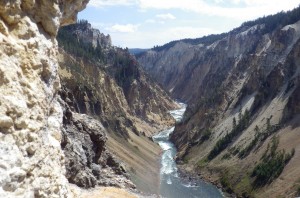 The Grand Canyon of the Yellowstone River.
The famous falls.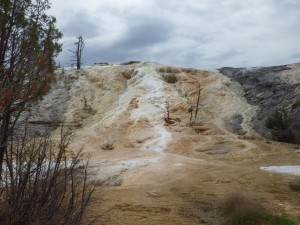 And Mammoth Hot Springs.
And while you are traveling from one sight to the next, you run into the critters like the bear I showed you.  Things like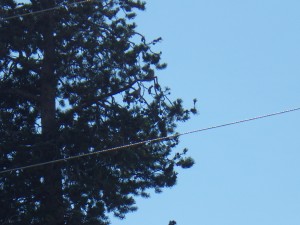 A Collard Dove (this was seen in West Yellowstone and not in the park and therefore I lost a beer bet to Weasel).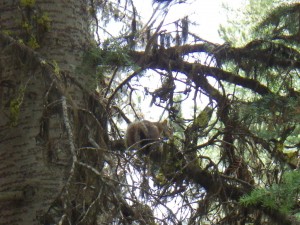 Squirrel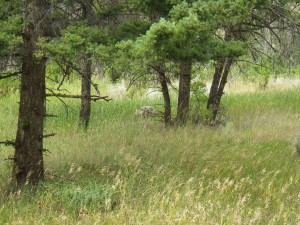 Coyote eating a rabbit (two pokies if you have them both on your list).
While traveling, we came to a road stoppage to find they were all excited to be taking pictures of elk, but we didn't bother to stop, we have all seen elk a million times and they were of no big concern of ours, we were on a mission to get someplace and just kept on weaving in and out of the cars and people.
My Yello was filling up fast and all I needed was a Loon and a Moose for a Yello, of my own.  There should be lots of both of those animals in the park.  So while I was busy looking for animals and hoping for those two, what do we see?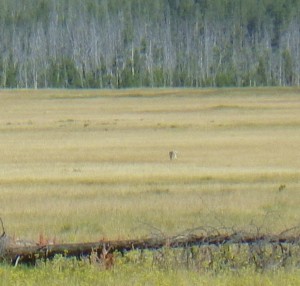 A large Grey Wolf wandering across a meadow!  The ranger near this spot said there had been three of them off and on and they were busy trying to get rid of an elk carcass that was out there somewhere.  Other people were setting up cameras etc. in hopes of seeing a grizzly bear as well as the wolves.  I don't know if they ever saw a grizz or not.  But for us, this was the most exciting animal to have gotten to see in the park!  And we saw the wolf and the bear the same day!  What a great day!
So, did I have a wolf on my Yello card?  Nope!  Did I have a deer the day we saw it?  Nope!  But I did have an Osprey and an Eagle and a duck, a goose and a buffalo!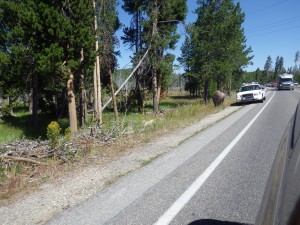 Those all got pokied.  And on we went through the park for 3 full days and I never did get a Yello.  Most of the kids had several Yello's and they were having a good time picking out first the money and secondly the candy.
Three days is not enough time to see everything there is to see in the park and I think you could be there a year and not see it all.  Someday I would like to go see it in the winter as I'm sure the areas where the hot pots and steaming pools are would be a winter wonderland.  We saw where lots of animals, mostly elk and buffalo would lay down near the hot pot areas for warmth.
The park is vast and beautiful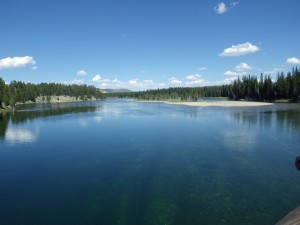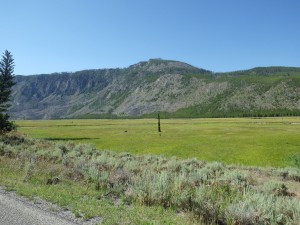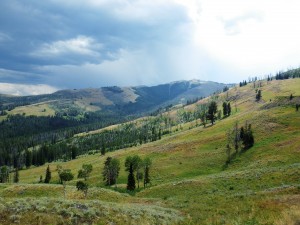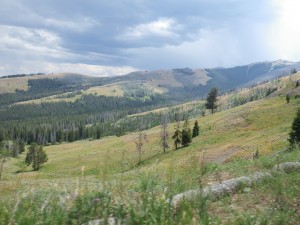 and full of people of every walk of life. It would be a fun job to work there if you could co-mingle with the people and even though we were pretty much on the go all the time, the few minutes I did take to just watch people was fun.  The funniest thing was that none of them recognized me and if they did, they didn't ask me for my autograph.
So, if you have not taken the time to go to Yellowstone National Park you really need to.  We were a bit disappointed at the number of Buffalo and elk we did see (I think a total of 10 buffalo and maybe 15 elk) and we never did see any moose.  But we did have a very fun time and I'm convinced the kids will remember this trip the rest of their lives.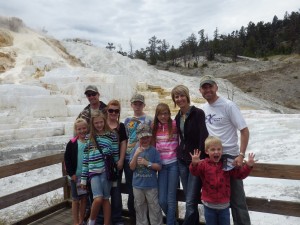 Addie, Makenzie, Brandon, April, Conner, Cody, Sydnie, Angela, Mitch and Little Chase!
Bears Butt
August 11, 2013