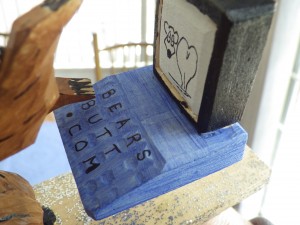 Today was a travel day until about 3 p.m. and since then it's been back on this black box looking up more information about this big old hunting unit called the San Juan!
I decided to go back to the DWR website and look up the CWMU's for this area and sure enough I found another one…only this time it is on the West side of Monticello.  If all the boundaries are correct from the DWR office this CWMU covers even the property where Dennis kills his buck every year on the muzz hunt…not a good thing.  So, is the boundary incorrect as posted by the DWR or has Dennis been getting away with something?
Further investigation shows that the CWMU does not go as far West as Dennis thought it did.  This is a good thing providing the DWR boundary is correct.  At any rate, further to the West along a road that is open all year round, is a off shoot road that pretty much follows the forest service boundary.  This boundary is absolutely an area we can hunt and travel on.
So, feeling somewhat relaxed about that, I went in search of the local averages for temperature, rainfall and/or snow depth and this is what I found.
During the month of November and at the elevation of 9100 feet, they average a high of 37, low of 12 and precipitation in the form of snow 11.5 inches (2 inches of moisture)…it looks like our travel plans for 9,000 feet and above will be stopped unless things are below average this year.  Down on the valley floor (Blanding) at 6,000 feet above sea level, the average temps are 47 and 23 respectively, with 1.23 inches of moisture and 6.4 inches of snow.
If we do some interpolating, we should be able to hunt from 7,500 ft and lower, and expect an average snow depth of 9 inches.  Providing it doesn't drift, we should be ok as long as we chain up and go slow.
My hopes are for a dryer than normal year, at least until this hunt is over and the weather allows us to look this country over really good.  Again, the pictures I'm seeing on the internet really show off this place really well!
Bears Butt
July 30, 2013