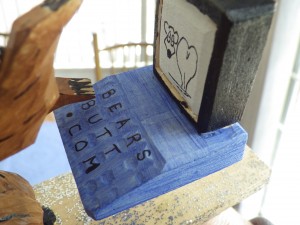 Things happen fast!  I'm glad we have our rendezvous plans almost finalized…Bones is a slave driver let me tell you!
Anyway, some of you know that Weasel, Dry Dog and I all drew out for cow elk tags on the Deseret Land and Livestock properties for this year.  Well, while I was gone they sent us each a letter explaining the process while on their ranch.
I guess they have to do that in order to have order and control on the land.  No sense having 200 hunters scattered all over the place taking shots in all directions.  So, the letter explains the rules.  Stinking rules…always stinking rules.
One of the rules is we have to follow or hire a guide.  Totally understandable.  We also have to provide ourselves with a 4 wheel drive vehicle and have chains for all 4 tires…again understandable.
We have to be physically fit in order to hike the mountains and haul out our animal…understandable again.  And the biggie is we have to qualify with the rifle we plan on hunting with during the hunt….understandable to the max!
So, to qualify a hunter has to be able to hit a 8X11 piece of paper at 100 yards, 3 out of 4 shots.  That should be easy.
BUT…you have to do it with one of  "their guys" as a witness.  They set up August 10th as the day to do that…not good for Weasel and I as that is the day we are planning on coming home from a short vacation to Yellowstone N.P.  So now what?
I contacted the guy who sent us the letter and he directed me to another guy in Salt Lake City.  I called him…We will have to go to SLC to do our qualification shooting and he wants us to consider this Sunday…July 28…HMMMM…that is Sherry and my anniversary…I think that day will not work.
Another day will have to be set up.
So these guys have things pretty much in order and are on top of things.  We must expect to pay the "guide" a token amount of money, perhaps $100 for his services on the day of our hunt.  I guess we will decide as a tip is NOT required.
So, more to come on when we will go to qualify…the biggest problem is that I only have one elk gun…a 7mm Rem Mag and Weasel and I won't be able to just use that on our hunt, we need two guns.  I have feelers out for someone who might have one they will lend!
Bears Butt
July 25, 2013
UPDATE:  Fat Duck has a dusty 7mm he will lend us!  I'll go pick it up today and Weasel and I have plans to hit the Logan range this afternoon to shoot both rifles to make sure they are "close enough" to get us our elk.
Thanks Duck!