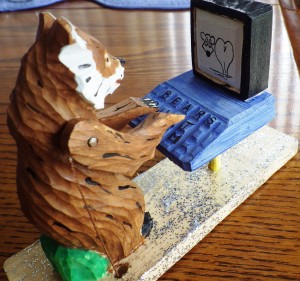 Scanning through my emails just now and came across one that was forwarded to me from another address…the one that belongs to one of my nieces.
Without giving out too much info here is her address:
Cyndi Summers
BSER for UT and NV
United Healthcare M & V
Of course there is a lot more to that address, but this is enough for you to get the point of this writing.  I have often wondered just what it is that she does at her work and now I think I have it figured out.
You see, she does a whole lot of traveling, all over the country giving training sessions and assorted informational seminars.  She is hardly ever home and when she is it is just long enough to wash some clothes and mow the lawn.  Her hubby is a traveling guy as well, only he travels the world, while she stays withing the confines of the US borders.
So, I picture her standing before a large audience and gives them the latest updates on things that help them do their job, her arms are waving all around as she talks and her power point presentation is going on just behind her head.  She might even show a short movie to get the folks' attention and knowing her she adds here 2 bits worth in the form of a joke…
So, what is it she actually does?  I still don't know, but lets look at her address once more:
Cyndi Summers
BSER for UT and NV
United Healthcare M & V
The key is "BSER"…They could have made her title something else, but I think they hit the nail on the head…"BS er"!  🙂
Bears Butt
June 27, 2013