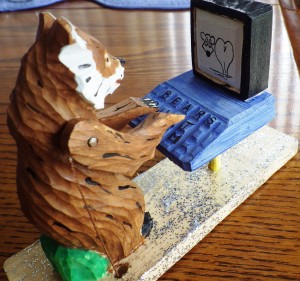 The first weekend of the 2013 Youth Turkey Hunt sponsored by the United Wildlife Cooperative Organization was a total success!  I am very glad I was there to experience it.
It's really hard to decide where to start, so I guess I'll take a lesson from one of the youth and begin with the beginning!  Good idea huh?
Weasel, Wapiti, Conner and I had a rough start as we had truck problems before even getting as far as Ogden on our way to the camp.  Weasels truck just didn't want to play that day and so it was a limping trip back to home to modify the hitch and put Wapiti's Wimp truck to work.  He wimp truck is a brand new big old Ford that has only pulled a 5th wheel trailer and the rest of the time has been cooped up inside.  I felt bad for the truck as it had a job ahead that would require some serious pulling.
Once again on the road, we were about an hour behind where we wanted to be at the camp setting up the tents.  When we arrived at camp there were already people on the site trying to figure out where to put what.  Well, even being an hour behind we still would have had some time to wait for the tents to arrive.  We worked fast and had two tents up in less than an hour.  Those tents are huge!  I didn't take any pictures of just the tents this weekend, but promise to have a good picture later on.
There is a whole lot to setting up a camp like this, tents, garbage can placement, cooking area decisions, table arrangements…we wanted those kids to come into this event knowing that they were walking into a hunters dream land.  (Before I forget, I really want to thank everyone involved with this event.  No way could it be done without the team effort of all of you!  You know who you are!)  We got it done and then settled in for a relaxing evening.  Tye and Kris provided the entertainment.
It was a very nice evening just to sit around and relax after such a stressful week of preparation.
So, Friday morning came rather quickly and we had lots to do in preparation for the day.  The schedule called for a big hearty breakfast of link sausages, hashbrown spuds, scrambled eggs, pancakes and lots of juice and coffee.  (I asked for hot chocolate too, but that message got away from the chief cook and food purchaser).
Folks started to arrive around 7 a.m. and everyone was excited!  As with anything like this the enthusiasm of one spreads to the next and the next and so on.  The camp was alive with the buzz of the event and everyone was talking "turkey"!  The kids were all grinning from ear to ear and getting to know one another.  It didn't take long for the camp to unify.  And then in came the DWR….000000, those dreaded "fish cops"…I'm only joking!  They fit in with the rest just like they should.  I suppose it's because they are "reaching out" to the general hunting people of the state and putting on a "different face", a face that shows us hunters and fishermen that they are just people with a job to do and these folks wanted to see just what was coming down on this event.  What all goes into it and what will be gained if they support things like this.
I am pretty sure they came away with a positive take on the whole thing and if any of them are reading this I hope I'm not wrong.
The UWC President, Tye Boulter kicked off the event happenings right after we ate our breakfast.
And before breaking up to go pattern their shotguns and hear some reminders of hunter safety from the DWR, Kelly Hicks gave each of the young hunters a "bag of goodies" that were so graciously donated from some of the sponsors of this event.
Browning arms, Winchester, Camofire, Sportsmans Wearhouse and others.  Each kid got a large bag and a couple of the items in the bag were a SOG folding knife with sheath and an easy to use Turkey call (I forget the name, but later on you will learn how precious that was to be in the bag).
The camp came alive with the sounds of turkeys everywhere!  I loved that and the fathers of the kids were beginning to grumble a bit to think about how their homes will sound when the kids get back home. 🙂
The man from the DWR that takes care of Hunters Education in the state gave a brief but very important reminder to the kids about the six or so most important aspects about being responsible as a person carrying a weapon (gun) and being ethical out in the field.
As you can see every one of the young hunters were glued and focused on what was being said…heck, for that matter so were all the adults!  All of the kids knew the answer to every question that was asked.  I loved it!
So, as they went to pattern their shotguns, we camp people had to clean up the breakfast mess and get ready to put on our "Spotters Hats".  We didn't want to miss that!  Our "boss" made it known to us that we had to be back by 1 p.m. in order to prepare for the evening meal that was to happen at 3:30 or 4 p.m.  Some of Tye's Chili!  MMMMMMM!
Wapiti, Weasel, Conner and I were asked if we would let a couple of the DWR personnel accompany us on this spotters excursion and of course we would love to have them join us!
How would you like to have a job like that, where you are outside enjoying events like these and get paid for it?  Not only that, but you are meeting people like Wapiti Dung and the Weasel….treasures that can only be matched somewhere outside this world.
The kids were all so very anxious to get out of the camp and into the woods to hunt turkeys.  Most of them had hunted some kind of animal before and some had even been turkey hunting and even bagged a bird, so to be taking sooooo much time in camp was just bugging the heck out of them.  We forced them to take a sandwich and some goodies and then they were paired up with their guides.
This pair is Chief Guide, Darin Gardner and his youth hunter, Jacob Connover.  It looks as if Jacob is very ready to head out!  LET'S GO!
You can see that this country has some very steep terrain, but the kids were so ready, I doubt they even knew it was anything but a flat stroll through the woods, at least on this first step of the hunting weekend.  By the end of it, they would have a different perspective, but even at that, I heard ZERO complaints from any of them.
So, us spotters sat high on the hill and looked under each bush and on top of every rock for signs of turkeys.  And when we found one, we would radio or cell call the guide and let him know where the birds were in relation to their position.  The guides would then make a plan and try and get in close to the birds without being seen or heard and set up an ambush.  Did that always work?  No, but the kids sure got a lesson on how it was done.  We on the other hand had to just sit and watch as things unfolded down below.  It was a very fun experience for all of us!
There are a lot of bushes and rocks to look at and more eyes are better.  Some people have a natural ability to discern between a real bird and a log that looks like a bird.  I found a lot of  "almost" birds.
Our time came quickly to an end as we had to get back to the camp to prepare the supper meal.  And as we drove into camp, there sat one of the young hunters swinging his legs off the tailgate of the truck.  His dad sat right along side of him and to say he was proud of his son, would be an understatement.
This young hunter is only 10 years old, but to hear his story and watch his actions when he tells it you would never guess his age.
A right of passage and I was there to witness it all!  I just loved it!
But that was not the only success story that came that evening.  We were busy with the supper when someone came and told us there was a second bird taken and so everything else was on hold while we went and found the lucky hunter.
Jessyca!  With a young tom called a "jake" in the world of turkey hunting and jake birds have tail fans that have taller feathers in the middle and shorter feathers off each side of the middle.  This is a classic jake fan and a wonderful pose by the team that made it happen!
Congratulations to both of these young hunters!  How can it get any better than this?
Well, I'll tell you it can!  A successful hunt does not have to end with a trophy to hang on the wall.  Success can be measured in a whole lot of ways…time spent with your dad, son, daughter or friends…just being outside seeing nature…the challenge that comes with hunting or fishing and your attempts to succeed at what you are doing and learning by your mistakes…the thrill of being so close to your quarry you can hear it breathing and not being able to take that shot…the fun of the camp and the heckling that goes with this sort of event.  We had it all this past weekend.  We met new friends.  Became better acquainted with some we already knew and hopefully shared some of our own experiences with others that they may use in a positive way.
We saw coyotes, deer, elk, moose (uni-corns), foxes, geese, hawks of various types, turkey buzzards, sandhill cranes and our goal bird, turkeys!
Our nights included a camp fire and listening to each of the kids tell their story of their days events.  The first night they were a bit reluctant to tell their story, but the second night found one of them as ready as ready to share what she had experienced.  Can it get any better than that?
You can see by the smiles that these young hunters and their parents were having a very good time.  Lasting memories for sure.
But there is more to this!
So, 10 year old Jacob bagged his bird on Friday afternoon.  He wasn't finished with the hunt!  He still had a full weekend ahead and was going to make the most of it.  I suggested that he might want to go out in the morning and help us do some spotting and that he could help another young hunter get a bird of his or her own.
As I was preparing to get the coffee and hot chocolate (Yes Kris came through) ready for the hunters before they were going to be woke up, here came Jacob ready to help out, it was 4:30 a.m.!  He wanted to do something while his dad was waking up.  So, I put him to work putting chocolate into a cup…when he was done putting in just the right amount, I poured in some hot water and had him stir it.  Then asked him to sit down and test it to make sure it was chocolaty enough for all the kids.
It was his job then to tell the others just how many scoops they needed to put in their cups to make it good.  Good job Jacob!  But was that enough for him…nope!  He wanted to join us as spotters and we wanted him to do just that.  His dad decided he needed to drive the two of them and not go in our car…that's ok…we all ended up on the hill and tried our best to find those wary birds.  Trish, with the DWR even came up on Saturday morning to join us.
You can't tell me Jacob doesn't want to spot a bird!
Strategies of all kinds were being talked about each morning as the guides discussed their plans for the day.
They had to take into consideration the age, size and physical shape of both the young hunters and their fathers.  You and I might be able to head off and cover a half mile distance in a half hour or less, but what about that person with legs only half as long as yours?  These guides really had a lot to do to try and get their hunter on a bird and it wasn't an easy job.  Thanks guys!  You all did really well and I must say, I think every hunter had at least one chance at taking a bird and some even shot several times without tagging out.  Maybe this coming weekend?
But again, that was NOT all that went on this weekend!  We had ourselves a big old party!
We had a band!
Darin Gardner gave us a demonstration on the "hows and whats" you need to know about turkey hunting.
And even a multiple time winner of turkey calling came in and demonstrated the techniques of calling turkeys, Matt Leonard!  Does it get any better than that?
Yes it does!  But not by much!
Bonding…..
Friendships….
Oh, I almost forgot something…at the first of this story I mentioned the bag of goodies the Kelly gave to each of the hunters…the one item was an easy to use turkey call.
It was late for a morning hunt when Kelly came rushing down to grab up some lunch sacks full of food, a couple cups of coffee and some hot chocolate for his hunter.  He had instructed them to "GET IN THE TRUCK!  WE ARE LATE"!!!  It was nearing daylight at this time and it's usually a very important thing to be in the spot you want to be long before daylight….well….this time they were behind schedule a LONG ways!
A couple of hours later, here we spotters are, over looking the valley where Kelly and his hunter is hunting.  Many cell phone calls had been made about the turkeys and their locations and Kelly was trying his best to get ahead of the birds.  Tye asked him about setting up and calling and his response was, "I was running late and I grabbed someone elses backpack by mistake.  All my calls are in my backpack back at camp"!!!  Now that is just not something a guide likes to have happen and often times just a little noise like a female turkey and the gobbler will turn and come running to the hunter.  Now it seems like all that can be done is to get ahead of the bird and try and be on the same trail as him when he comes past.
One of the spotters said, "What about the hunter.  Does he have the turkey call that was given to him yesterday"?  A call was made down to Kelly and sure enough…the young hunter was prepared!
When asked up on the spotting hill of Jacob, "Jacob, what is one of the most important things you have gotten from this hunt so far"?  Jacob was pretty quick to say, "One thing is, I sure wouldn't go off without my call"!!!!!
Again, what a wonderful weekend and like Weasel said yesterday when we got home…"And just think…We still have another one ahead"!!!!  Yes!  It does get better!
Bears Butt
April 29, 2013