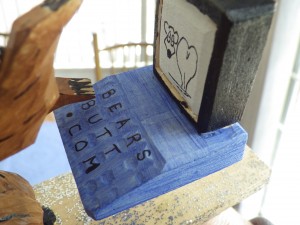 This is the beginning of the camping portion of the Youth Turkey Hunt for Wapiti and I…In just a few minutes he will arrive at my house with his small trailer loaded with firewood.  We will load up some of the items needed for the camp and head up to the Whitear Pavilion in Peterson and unload.
The Whitear place is a really nice family camping area with a large building equipped with a basketball court, cooking facilities, showers for about 6 people at a time, sleeping places and a balcony that overlooks the basketball court.  Outside is a covered patio, a very large grassy area, firepit and 3 cabins that will sleep 2 in each.
The Whitear family was one of the founding families of the Peterson community and last year we were proud to meet the oldest living member of that family.  He was pulling weeds at the site and we talked for about an hour with him.  I can't recall his name but he sure had a lot to tell us.  A wonderful man with lots to say.  He asked us if we were part of a religious father/son group and when he found out we were not, he was glad…he said "They are the worst"!  "They scar up the trees and tear things apart!  Not a good group at all"!  We promised him we would take care of the place.
Anyway, I found out he has since passed on…my blessing and prayer to him….
We are so pleased to have this area as our camp headquarters this year and they are allowing us to leave our things on the site between weekends.  It's not secure, but it's pretty safe, as someone with ill dealings would have to cross 1/4 mile of private property to get to the site and it's all open fields.
So, we are going to take up a bunch of fire wood and some big tables and then off to the Bountiful area to pick up and deliver a very big eight burner bbq stove.
————————
I didn't get the chance to post this up, so here is what happened today.  Everything said above was done and delivered.  We met Rod Whitear while we were there and told him we had just dropped off a load of firewood as we didn't want to use theirs…He said that was very thoughtful of us and thanked us for that…It's the least we could do.  So with firewood and tables delivered…oh I almost forgot…as we were making our way from the highway over to the pavilion area I saw a turkey up on the hill above the camp.  We stopped and looked at it for a minute…one turkey!  This is going to be a great hunt!
Then off to Bountiful to meet with the President of the United Wildlife Cooperative to pick up the big cooker.  It's so big you tow it with a car!  Camp Chef has nothing on this bad boy!  Tye was quick to have us take some cots and a big table up with us as well as a big grill.  Why not?  We were going that way anyway!
On our way back up to Peterson I looked across the way and there were two hen and a big old tom turkey all fanned out and strutting his stuff!  Boy it's going to be a Great Hunt!
We dropped off the cooker and other items and headed home for some farm duties.  On the way home I saw an email from Kris Marble with the names of the lucky winners listed!  I read the names…2 boys and 4 girls!  And 2 of the girls are twins!  HOW ABOUT THAT?  This will really be a fun time!
It does bring in a new dimension to the sleeping arrangement situation and I'll let the powers of the UWC decide how that will work out.  I would put the twins and their dad in the big house and two of the others one in each of the cabins.  Then one of the boys could sleep in the other cabin and the last one in a wall tent.  Who knows how it will play out.
So, there you have it!  It's going to be a fun time!
Bears Butt
April 24, 3013