Strawberry On Ice…Bears Butts perspective….
We had a pretty good day on the ice yesterday, the weather wasn't quite as nice as we had hoped, but it didn't start to snow until all the events were over for the day.  That was nice!
The UWC setup went pretty good with lots and lots of help to get the tables and ez-ups set and the camp chef cookers put together and fired up.  Coffee was on by 8 a.m. and we were all ready for some of it.  Our volunteers meeting went on as scheduled and then a text message came through on the status of the bus with the Boys and Girls club kids on it….An accident had part of Provo Canyon closed and the bus had to take an alternate route to the lake…delay of one hour.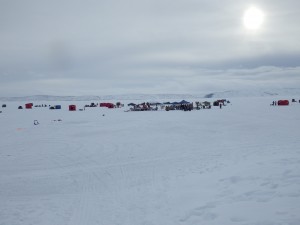 So with an estimated time of arrival of 10 a.m., we set up our own ice tent and drilled a bunch of holes in preparation.  Conner even got to drown a worm for awhile…only one small bite.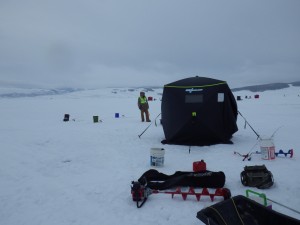 And so we waited for the kids.  Some of the adults and volunteers went on to do some fishing, while others continued to organize and make sure everything was in order and ready to go.
I was given the assignment to meet the bus at the lodge and make sure it had a big enough space to park.  The parking lots were full or filling fast with people coming to the event.  Snowmobiles and ATV's were zooming in and out and the whole area looked like a snow carnival.  People were hustling in and out of the lodge, buying equipment and/or licenses, renting machines and in general having a wonderful time.
As I was waiting up by the lodge,  people coming and going were asking me questions about where to park, where to register for the event, where to get this and where to get that.  Then it donned on me that my florescent vest and radio in hand made me look like some sort of official and that I was the one they needed to contact.  All I wanted was the bus to arrive so we could go fishing.  But those who know me, know too I was in my element and did my best to direct them in the best manner I could.
And so, at 10 a.m. here came the bus and the kids on board were all screaming and yelling.  To say the least they were very excited to be there and wanting to get some fishing done…at least that was what I thought, until they all got out of the bus and organized by their leaders.  Then we were told they all had to go to the bathroom!  32 kids and a one-holer…it takes awhile to get that sort of job done.
Jason Lowe was in charge of the paperwork and each kid had his papers in order.  Jason said to stay with the kids and make a radio announcement when we were on our way down to the ice.  As I stood there watching the kids playing in the snow and the leaders trying to keep track of each and every one of them, I decided I could not be a leader in their capacity.  A very tough job and I commend them for the job they did.  Not one kid was harmed!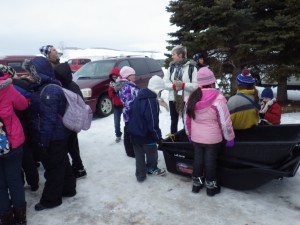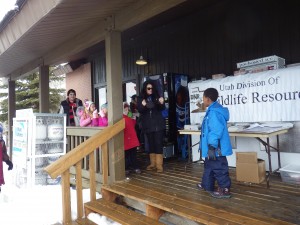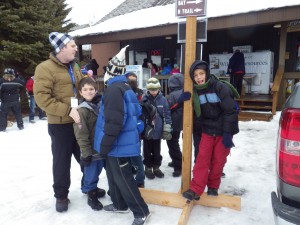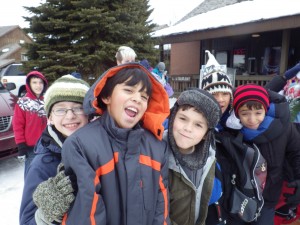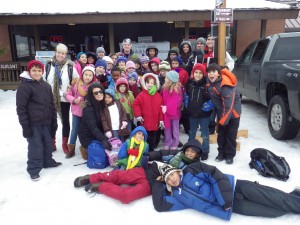 And then just like magic, they were ready to hit the ice!  LET'S GO!!!!!
On the ice, they got together and were told the rules and then assigned two kids to one ice fishing mentor!  And then it was off to do some real ice fishing!
My two guys were a bit older in the group and both had fished before, just not ice fishing.  Neither was dressed too well for the cold breeze that came up and they spent some time inside the warm ice shelter when they just couldn't stand it any longer.  They were real troopers however, and spent a whole lot more time fishing than they did inside the tent.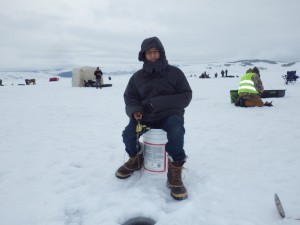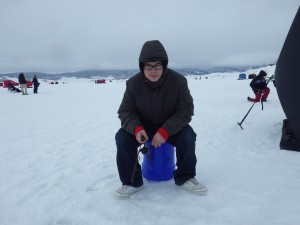 We tried everything I could think of to get them hooked up with a fish, but it just wasn't going to happen.  Both boys wanted to go "way out there" to try it, but I told them about my responsibilities where we were and that we would just have to pull a fish up through the holes we had around us.  They were great kids and tried everything I told them.  Still no bites.  So, I said to them, Why don't you guys show ME how to catch a fish.  You jig when you want, lift your lines higher in the water column, let it sit, reel it up and drop it back down.  Whatever makes you think a fish will grab it.
And they did.  Reeled up, changed bait, dropped back down, cranked up one turn, cranked up 5 turns, cranked up 20 turns, let it sit on the bucket, jerked it up and down….and then the smell of burgers came wafting our way….poles up and over to the burger line we went.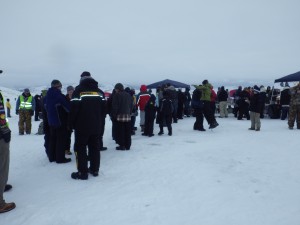 From that magic moment through the rest of the day, they wanted hot chocolate more than to catch a fish and so it was a pretty tough deal for me to keep track of their where-abouts, but we did pretty good.
When the announcement came that the DWR was going to demonstrate ice safety and how to save a person who has fallen through the ice, the boys were anxious to go watch it.  Especially since the trip to the demonstration was going to take them right past the hot chocolate.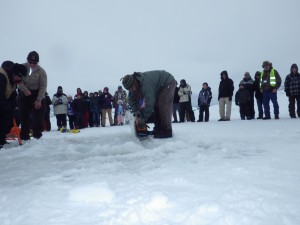 This is Jason, one of the organizers and officers of the United Wildlife Cooperative organization as he is cutting the ice with a chain saw.  The idea is to cut the ice and then push the big chunk of loose ice down and under the shelf of ice that makes up the rest of the lake.  After the demonstration is over, that big chunk of ice is pried back into the hole and allowed to re-freeze.
A large chunk of ice is not easy to push down and under the edge of the ice.
The Utah Division of Wildlife Resources has some very dedicated people who specialize in many things.  This officer explains to us about ice safety.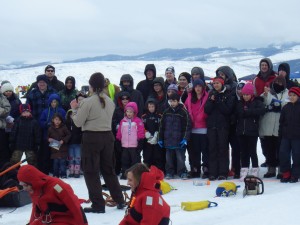 The demonstration went really well for two of the three people in the ice suits.  The one with his back to us is the famous Adam Eakle with the KSL Television Outdoors show, while the two across the ice hole are ladies.
The lady on the right is Adam's co-host and is the Utah DWR Public Relations Laison, her name is Tanya, I don't know who the other lady is, if you know, post up a comment on this site.
When they first entered the water, Adam suddenly realized his suit had a hole in it, near the rib cage on his right side.  He was reluctant to go back in after that cold water hit his clothing and soaked him up.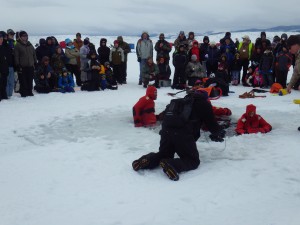 And even though Adam got out of that very cold water, he was a super trooper and got back in for his parts of the demonstrations.  Here he pulls himself out of the hole using ice spikes.  Ice spikes are basically nails protruding about an inch out of handles and the handles are connected by a  piece of rope.  The rope goes around your neck and are readily available, one in each hand, should you fall through.  I like to have mine going down and out the sleeve of my coat while the rope goes around the back of my neck.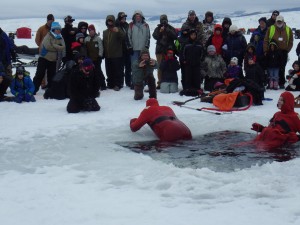 Tanya watches how Adam shows off that technique.  She got to do it as well and it does not look easy.  And, even though these people had floatation suits on, the normal person would not and so that very cold water will soak up your clothing very fast and so not only are you going to be pulling your own body weight out of the water, you will have the added weight of wet clothing to pull out as well.  I think my ice fishing is going to be on very solid 4 plus inches of ice.
So, since Adam is already cold, let's throw him a rope and show how to pull a person out of the hole and onto the ice.  Throw the rope over and past the person in the water.  Get assistance to help pull on the rope if there are others around.   The person pulling on the rope needs help and if this ever happens, make sure you are the one doing the pulling and not the one being pulled.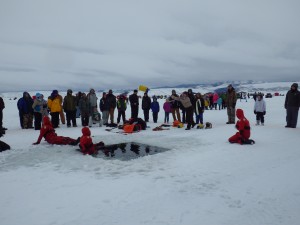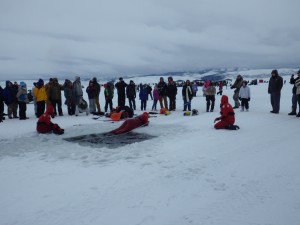 The day ended quicker than it started, another case of time flying when you are having a good time.  But the kids had to get back on the bus for their ride home to the Provo area.
The Upper Bear River chapter of Trout Unlimited made sure each of the kids were given a fishing pole to take home and use for their next fishing expedition.  They were quite happy about that.  I have to give a hearty THANK YOU to Tim Gorman and the UBR group for doing this for the kids!  Here you can see Tanya, Adam and Tim in the picture with the kids.
And while most of the kids didn't have any bites by fish, some of them were lucky enough to be mentored by someone who knew what it took to catch a fish.
The kids had a really good time.  But I'm not so sure I didn't have more fun than they did.  Anytime you can get out of bed at 5 a.m., spend the day on the ice trying to catch a fish and have the day end at 4 p.m. and it seemed like you just got up, is a day of having fun!
If you like this sort of thing and think you want to make a difference in a young person's life…please consider joining us next year when we do it all again!
Bears Butt
Jan. 27, 2013
OH!  I almost forgot.  In an outdoor show like the KSL Outdoors show, the host gets all the attention and the one who does so much more running around than the host and gets the least attention at all…Here is the camera man for Adams show…Meet Mike!
Thank you Mike for doing such a wonderful job!  We love you man!