No alarm was set last night because…..well because there wasn't supposed to be a sun this morning.  I recently read where (supposedly) NASA had predicted a three day/night of darkness as the universe was aligning to block the sun light from hitting the earth.  Pretty wild imagination by someone.
And as usual, the hoaxters really went out on a good long limb with that one.
Meanwhile some 2,000 years before Christ, the Myans were looking up and one of them decided that the earth was born through an opening in the Milky Way, a hole among all those stars.  They must have been up all night eating peyote buttons and drinking weird juices because whenever I look up at the Milky Way there isn't any possible hole in and among all those stars.  What if the Myans would have had computers and the internet?
We live in a great time, where we can share information at the drop of a hat, better yet at the drop of a key stroke (hit enter).  It is a great time but people can abuse it quickly and they often do.
I like to scan the internet to find strange things that people are doing.  And trust me with this one, they are trying all sorts of strange things.  Even making stuff up and going to great lengths to get us to believe them…fire starting using an orange is one…..and since I fell for that one I do a whole lot of investigating before I post up on here about it.
I have to tell you another story, completely un-related.
I just bought myself a Christmas present, a new digital camera.  This little baby is just what I have needed for a long time.  It is dust proof, crush proof, drop resistant (proof to 5 ft) and water tight.  It can be used to take pictures underwater down to 40 ft.!  I will not be swimming that deep, but I plan on taking some pictures underwater with it.
On the dream hunt it got a little dusty at times and my old camera, which is a good one I might add, started sounding a bit like a gravel crusher when I zoomed in on something.  So this new little guy will do me well.  I have needed a camera that can take the abuse I give out.  It even came with a life jacket in case I drop it out of the boat.
It can take pictures out to infinity, just like every camera can, but it can also focus on something as close as 1 centimeter!  That is right on the deck, trust me!  I shot a picture of the back of my hand and then cropped the picture and you can see that I could use some hand lotion.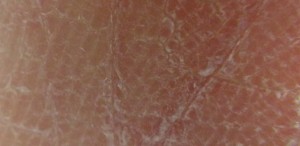 I'm just kidding of course, men don't use hand lotion.
Pentax Optio WG2, 16 mp, 5X zoom and it even takes HD movies!  Works down to 14 degrees F. too, so you will see it out on the ice!  I'm pretty excited.
So, I'm actually very glad that the world didn't end yesterday, I have some pictures to take.
Bears Butt
Dec. 22, 2012