As one can clearly decide, we are back from the Crawford Mountain Dream Hunt of 2012.  Soon you will realize that perhaps another trip or two before the actual hunt ends will happen.
The hunt is one of the most incredible hunts any hunter could possibly go on.  Even if only for one day in those mountains to view the extensive wildlife that abound on that mountain.  Not just the deer themselves, but all of the other wildlife that lives there as well.
As a support player on this hunt I was not always afforded the opportunity to take pictures of the quick fleeting critters as they realized they were in a place that was very uncomfortable for them to be, but when I did get the opportunity I took it.
The hunt is not always about the game being sought after as well.  It is the camaraderie of the people in camp.  The visits from those who are also on the mountain enjoying what they enjoy.  The stories of their hunt, and listening intently to your story as well.  Gleaning information from each other as to the where-abouts of a big animal that was seen or nearly taken.
It is also about the surroundings.  The sunrises and sunsets.  The "what has to be taken care of, like it or not".
This hunt had it all.  And even though it is not truly over for the season, it is for me.  And I am going to share with you my view of it in a series of stories about the Dream Hunt of 2012, for No Grimace and Baby Boy.  It was a very remarkable series of events that took place from day one until even this morning as I previewed my photos and put names to them.  The reading of the comments that were made on my web site by people who have come into my life purely by accident.  So, I'm sure you would rather see the pictures than read my dumb comments and such.
Sunrises and sunsets are always cool to see, especially when there is some spectacular color to them.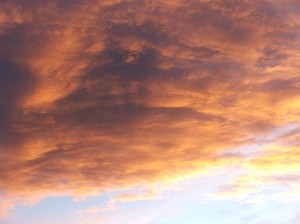 Clouds can bring you forecasts of weather that is coming, or post casts of weather that has just passed through.  Morning sunrises bring new life to a darkened night and hope for the coming day.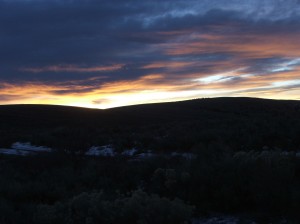 As the hunter waits until it is light enough to see his sights, he waits and watches the day begin.  The chirping of the birds and scurrying of the little critters that abound.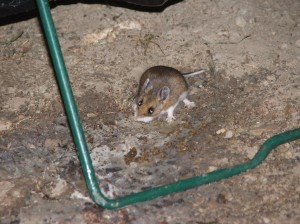 Anticipating what is coming his way on this beautiful day.  The skyline begins to brighten and his heart beat picks up a slight bit.  A great day is ahead and the one of yesterday is far behind.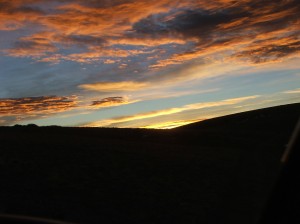 Should I take the hunting path to the North today?  Maybe I'd have better luck going South.  Two days ago the animals seemed to be concentrated in the draw we call the veggie bowl.  Yesterday they were in Lesbian Valley.  Last week we found them in Prancer Valley.  What to do?  Where to go?
No matter the decision, the hunter and the support team, head off for a day in the mountains to enjoy whatever comes their way.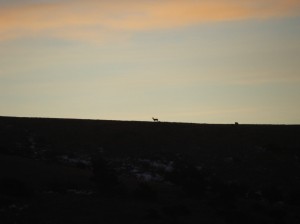 What is that way off in the distance?  Is that a deer on that skyline?  A quick check with the binoculars clearly shows we may have made the right decision to come this direction.
Some mornings you get up and are still in camp and look up to greet the day and what is looking down upon your camp just might surprise you.  As it did with us on the last day of our hunt.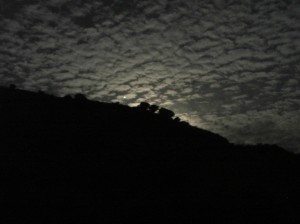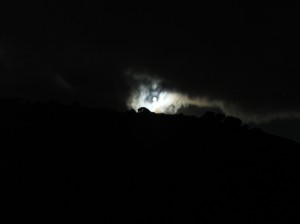 A sign of good times I'm sure.  A hunter must be constantly aware of his environment because the game he seeks is also doing the same.  For the game animal it is a matter of survival, for the hunter it is testing his own skills.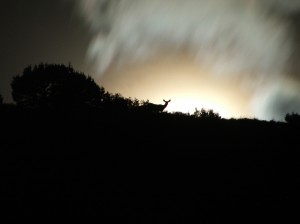 But this is not the game animal we are after on this hunt.  We need to see horn in the sky to make us believe we are on the right trail.  And we continue to have high hopes and dreams of the big buck, and then suddenly "There it is"!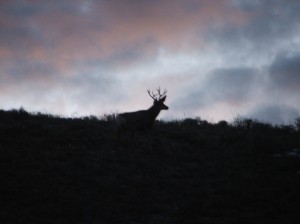 It's still too dark to see the sights and so this big boy will have to be seen again somewhere.  With more analysis of the size, perhaps this is not one we would want to shoot anyway.  Afterall, it looks to be rather spindly and not too tall.  Ya boys, let's go look for a bigger one.
But wait!  Look again!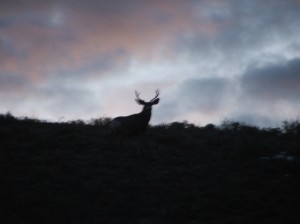 Nope.  Still not a shooter.  Let's go on.
And so, we travel up the trail and over the next ridge, looking for the one of our dreams.  And the morning light continues to grow in intensity and soon the morning sunrise yields itself to daylight.  And what we have here is a genuinely nice looking day for being outdoors enjoying what God has given us.
Hey!  Look over there!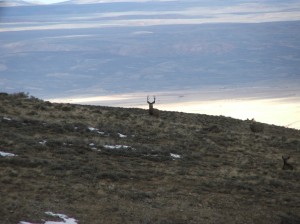 WOW!  If it was as wide as it is tall, that would be a real shooter for sure.  But not this day guys.  Besides, trying to sneak to within shooting range of that big boy would be tough as nails.  Those two does would make sure he was alerted to danger.
And the morning progresses with more of the same.  Lots of smaller bucks being seen and then as quickly as we can say, Crawford Mountain…there stands another monarch of the mountains.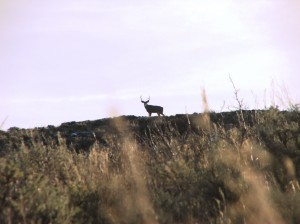 I wish I was closer to this one.  It has quite a bit going for it as a shooter in my book.  Looks to be close to 25 wide.  Does it have 4 points on each side?  Eye guards?  What does your dream buck look like?
Yes, there is a lot to see up there.  Coyotes, yes, but I did not see but one and it was very far off into the distance.  Others in the group saw some close enough for a shot, but they weren't the ones with the tags.  Sharptail Grouse, yes, but only a couple.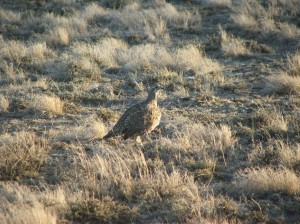 And another danger to the animal community was this mangy dog we saw chasing the deer around through the hills one day.  We tried to get a clear shot on him, but he was smart enough to avoid what would have been his last chase.  We last saw him moving behind a head of does and fawns in the direction of Wyoming.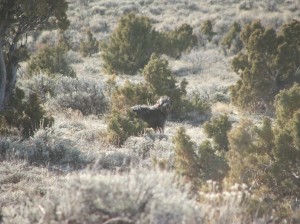 So, you can see, there is a lot up in those mountains that keeps your interest.  And the day goes quickly by.  You woke up at 5 a.m. and suddenly find yourself totally exhausted by 7 p.m.  14 hours of continual adrenaline rush.  A quick supper, one last beverage and it's pillow time.  Tomorrow will be another day.
Bears Butt
Nov. 30, 2012