I'm always looking for some way for people to survive out in the woods be it with safe fires, hunting or what have you.  Today I stumbled upon a "sling shot arrow" video from "Wildernessoutfitters".  These guys are on top of all the things I am interested in but much more than I am.
If you have never thought about shooting small game with a sling shot it is time you did.  It might be the difference between you living or dieing out in the woods.
On an elk hunt many moons ago our very own Hunter, made an incredible shot on a grouse with a sling shot and ended up with a fine meal.
Look at this video.
Enjoy!
Bears Butt
Oct. 29, 2012
So I get a call yesterday from our friend Dry Dog, who proudly says this bow sling thing really works.  He told me all about his fight to find a Whisper Bisket and how expensive it was when he finally found one.  Had he taken more time to look he would have found one cheaper, but he was in a hurry to make one of these fine tools and try it out.
Here are the pictures he sent me.
And here is himself with his newly made tool.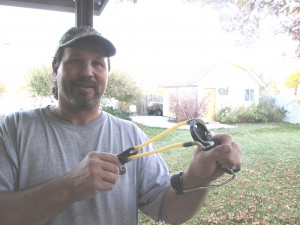 Pretty nice there Mr. Dog!  Do you actually think you could hit something with that?
Dog says it shoots pretty dang good out to about 20 yards, but it would take a lot of practice to hit something that far out.  But for close shots it's deadly.
Great job Dry Dog!  I can't wait to see how it handles!  Tip it with an Epek broadhead and you would have one mean killing machine!
Thanks for the pictures and the report!
Bears Butt
Oct. 30, 2012