Lookie here!  It seems that while most of you were off making a living, Christopher and his cousin Cole were off fishing.  I can't tell you where they were, but I can tell you that the fishing was pretty good.  They caught a few that they turned back, but this one was impossible to turn loose.
18 inch rainbow that weighed in at just under 3 pounds (my guess and I'm sticking to it).  The 18 inches is for real.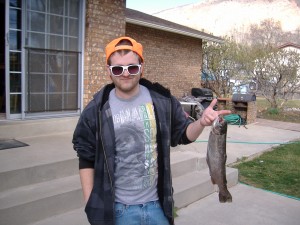 Nice fish Chris (Clutch)!!!!  Congrats!
Bears Butt
Late March 2012