Now that the trapping season has come to a close for this year, I can let you in on my little secret.  If you have visited this site and read all the stories on here, you have read about how I keep track of my traps.  All the maps, the flags etc. without them I would lose a lot of traps each year.  The maps tell me about where the traps are located and how many are at each stop along the way.  The flags actually guide me into where the trap is actually located.
I'm sure I am not alone when it comes to mapping and flagging.  Also, I'm sure I am not alone when it comes to having the wind blow my flags down.  This is a very frustrating thing to experience on the trap line, especially when you set your traps the day before and are not really sure as to where you put it.  You look across the vastness of the swamp toolies and bulrush and your map says there should be say three traps and you cannot see one flag waving out there.  So you go looking and with patience and perseverance you finally find all three and you re-flag them.
You just lost some time and now you go to the next trap set area, more missing flags…it is just plain frustrating.
So, we go to trying to figure out how to tie the flags in order that they won't go flying off in the wind.  We wind them around the stocks, tie them between stocks and come up and over the top of the stocks and re-tie again.  Sometimes that works, most times it doesn't.  And sure as shooting, just as you think you have your flags all secured down, here comes one of those wet spring snow and wind storms that wets things down and blows hard and poof…off your flags go!
Now most of us trappers are always thinking of better and better ways to make the job quicker, more successful  and just plain funner and cheaper.  After all if we figure in our time, none of us are making any money at trapping.
The flagging tape I use is fluorescent orange (Hunter Orange), ¾ in wide and comes in rolls of 500 ft.  I usually purchase it at a box store like Home Depot or Lowes and the price is about $4 p/roll.  It isn't enough to break you, but it adds to the expense of trapping.  And in the end, when you pull your traps you also pull the flags and put them in the garbage.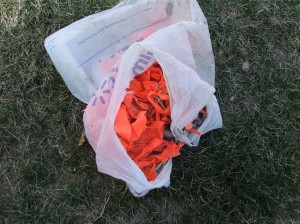 And so, why not figure out an easy way to set your flags out and be able to re-use them over and over?  There must be a way.  Besides, sometimes you only want to move your trap a few feet and then there goes more flagging tape.
One day in February I happened to be making myself a sandwich to take out on the line with me, when I noticed a jar on the kitchen counter and in it were various sizes of snap type plastic clamps.  We use the larger ones to seal up open bags of chips but never have used any of the smaller ones.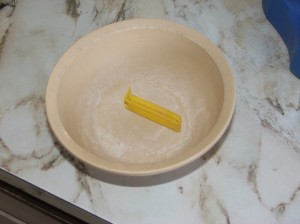 I took the four that were in the jar out and looked at them.  HMMMM, I thought, about 2 inches long.  They have two slots on one side, just right to slip the end of the flagging material in and tie onto the plastic clamp.  I thought, if these things will clamp onto grass, bulrush, toolies etc., maybe they would work for what I'm thinking.
I put some flagging tape on them and rolled them up and put them in my pocket.
Out on the line, I had a lost flag and so, on went one of my new ideas!  About two weeks later, when I pulled that trap, I popped the clamp off the bulrush, rolled it up and put it back into my pocket.  I used it the next day, when I set my next line.
Next came a question about high winds, snow, rain etc.  Would they hold up, or would they be too heavy and cause the plant material they were clamped on to break off?  Questions only time and weather could answer.
I used one of the clamps on another set and also put on a tied flag next to it.  Both hooked to the same type of  grass.  We had a very good test of weather hit soon after I put the "test" up.  We had wind with gusts exceeding 60 mph and sustained winds of 30 mph.  We had snow.  The heavy wet spring type of snow and we had rain mixed with snow.  You could not have had a better test of this flagging idea.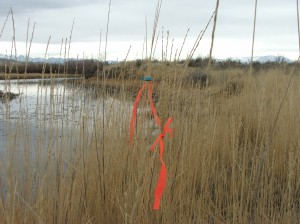 So, what happened with the test?
These pictures show where the tied flag was the day I pulled the traps from this spot.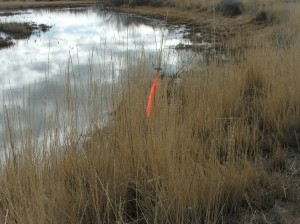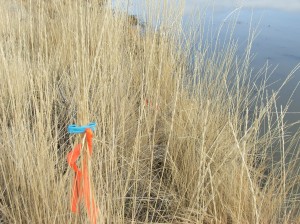 Look very closely at the center of this picture.  See the hint of red?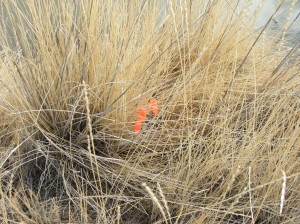 And so, guess who is going to be buying a bunch of these clamps for future trapping?  You guessed it!  ME!  And I have found a supplier of these fine little clamps and if you want me to get you some, just let me know.  If you want, I will even put on some flagging tape so when you get them they are ready to deploy into the field.  We can talk price when you tell me how many you want.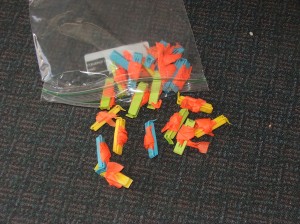 Bears Butt
End of the trapping season, March 2012