My wonderful wife picked me up a very nice 4 person ice hut for Christmas this year.  I have never had one before now.  I have been in ice huts before and believe me they make the ice fishing very nice especially if the wind is blowing.  At least 20 degrees warming inside the hut.
This bad boy does not have a lot of windows, in fact it only has two on opposite sides of the hut and they are only about 8 X 14 inches but that is plenty of light while ice fishing.
The hut claims 4 people can fish in it at the same time and I think it will, it measures nearly 7 ft. square and is 7 ft. tall.  Plenty tall enough for most guys.
It weighs in at 26 pounds so it will be a bit cumbersome to take fishing, but once on the ice it will be a great thing to have.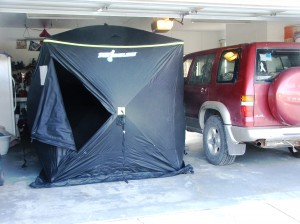 There was a heater with the deal as well….very lucky me!  The grandkids are going to love this thing too and this Thursday we are going out and give it a go!
Bears Butt
Dec. 2011