WOW!  Bob and I decided to hit the swamp for an afternoon of duck hunting yesterday.  Oct. 25.  There was a slight breeze blowing,  partly cloudy skies and the temperature was a balmy 40 something.  All in all, not a good day for duck hunting.  Usually a good day for duck hunting is "fowl weather", high winds, stormy, with rain, sleet, hail, snow…you know…Fowl!
Well yesterday there were hundreds if not thousands of ducks flying everywhere.  Mostly spoon bills, which is not one of my favorite ducks to be shot.  They eat well, but still I'd rather have a limit of male mallards or a brace of Pin Tails with a mix of Gadwalls.  After much frustration at seeing spoonies winging in from every direction we decided to take a couple.  Once we broke the ice on them we went crazy with our shooting and ended up shooting 61 shells between the two of us!
A day much similar to one I had with the Edjukateer, as far as fast shooting goes.
In the end, we both got ourselves doubles (two shots, two ducks) and I did something I had never done before and that is get two ducks with one shot!
Our decoy setup is usually a couple dozen duck decoys and a dozen goose decoys.  The goose decoys are usually used as confidence decoys as the ducks seem to decoy better if they see the goose decoys.  Geese tend to be more cautious in the real world and so if ducks see geese they will come into the set.
Well, yesterday three honkers were passing by to our North quite a distance away, and suddenly decided our set of decoys looked pretty good.  They turned and set their wings right into us!  BANG!  BANG!  BANG! BANG! BANG!  Two of the three were on the water and the third was wondering where is buddies went!
61 shots!  7 Spoon Bills, 3 Teal and 2 Honkers!  Not a bad afternoon in the swamp.  Left home at 2 p.m. and back home at 6 p.m.
Thanks for going with me Bob!  It was a wonderful time!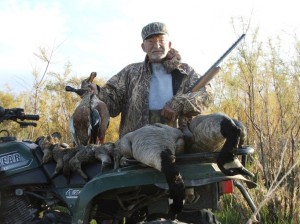 Bears Butt
Oct. 2011