At rendezvous this year my nephew Softball (Jay) gave me a picture he took of me and entered into the county fair.  Of course with his abilities with the camera he took a Blue Ribbon with the picture.  The picture is sorta nice and I am very glad to have it….Thanks Jay!
Upon receipt of the picture Twister said he would be happy to make a frame for it and he took the picture with him.  As for payment for him to make the frame he had already spent one night in the Bears Butt and Winemaker bed and breakfast mobile motel, but I insisted he spend one more night in the same and this time not skip out on the breakfast part of the deal….he agreed and it was done the next morning.
Last Saturday evening he brought the frame and presented it to me.  What a nice frame it is indeed!  He had recently cut down a branch off a "Willow" tree (Willow Creek Free Trappers comes to mind).  And he took that branch and split it lengthwise in half.  He nursed those two pieces for a couple of weeks by turning them over every two hours in the hot sun to dry.  An ordeal that took much discipline.  He did not want the bark to dry and come off of the underlying wood.
After the wood dried, he carefully employed his skills as a carpenter and sanded it flat on the backside and then again on the inside, which would become the inside of the frame once finished.  Then he cut the 45 degree angles making up the corners and fastened it all together.  Putting in a glass and viola!  Done.  This is the end result.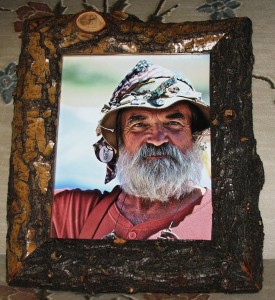 My photograph of the picture and frame does not do it the justice it deserves but over all you can see it is a very nicely done.  Both Softballs picture and Twisters frame.
Thank you both from the bottom of my heart!
Bears Butt
Sept. 2011