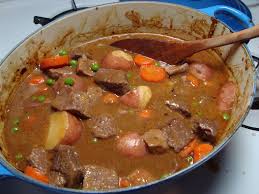 It's about 60 degrees outside and that is plenty cool enough for me to think about either chili or stew.  I tossed a coin in my head and decided I'd make up a batch of elk stew.  Being's how I'm pretty lazy, I also decided to do it in the crock pot, that way I'll have enough of the day freed up to go down to the duck club and look around.  It is the opening day of duck season today.
From the freezer I took out one package of elk meat marked "stew", that is one from the cow I shot last fall and I also took out one marked "S.J. chops"….SJ stands for San Juan and even though the chops are from the back strap of the animal, it was from my bull and trust me when I say it is tough!  Even the broth that is left in the pot after cooking that old bull is tough.  And so, to put back strap meat into a stew, in this case is a good decision.
So, about 2 pounds of meat was cut into chunks and tossed into the crock pot.
You know me by now that I don't go to any recipe book to put together most of the meals I make, I just fly by the seat of my pants.  And as long as I'm not cooking Vienna/Kipper Enchiladas, I'm pretty sure it will taste good, no matter what I toss into the mix.
Next I went to the fridge and the crisper, where Winemaker keeps all her veggies.  I dug around in there and found some green onions that would be going bad in a few days, a bag of carrots and saw some green pepper chunks.  I didn't take the green peppers as we still have some out in the garden.  I went out there and picked all the ones ready to be picked and chose two of them to go into the pot.
The green onions were peeled and the big ends cut off and chunked up and into the pot they went.  I peeled two of the carrots and chunked them up as well.  Then cut and cleaned the green peppers, sliced them lengthways, diced them and in they went.
I went to the basement and retrieved a medium yellow onion and three small potatoes.  The onion was peeled and diced up as were the spuds.
A lot of folks like to put in a lot of spuds in their stew and some times I like to do that too, but not this time.  My emphasis this time is on the meat!
With all of that in the pot, I took both hands and mixed it all up pretty good.  Then added the spices….about a teaspoon of garlic pepper, one of beef bullion (why?  Cuz I saw it there), one of diced dried chives and one of season salt.  Then I topped it all off with one of plain old table salt.  Poured in a cup of water and added about 2 tablespoons of Worcestershire sauce, then thought to myself…..Hey!  Wouldn't some barley taste good in there?  And so I added about 1/4th cup of barley to the whole mess and put the lid on it.
Now it's about 11 a.m. and the crock pot is set on high.  I figure it will be done about 6, just in time for supper.
Time to head for the duck club for a look-e-see!
Bears Butt
October 4, 2014