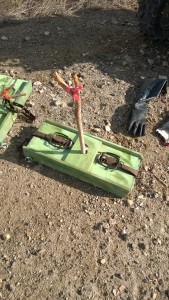 I haven't posted on my trapping lately and I need to do that to get you all updated.  I took most of the weekend off to do the archery thing but there wasn't much happen on the trap line and so it wasn't worth posting.  I'm not really sure what is happening with the rats this year.  Low water is one thing, but where we do have water there just aren't the rats moving around like in normal years.  Perhaps they are in a down cycle and just flat out aren't there to be caught.  (shrug shoulders)
Yesterday I did finally manage to catch a coon but not in a dog proof trap.  It was waiting for me in a live trap that I was planning on moving because of in-activity.  Because it finally caught one I left it where it was.  I moved another one for lack of activity however.  Now I have 5 live traps and 3 dog proof traps all within a 50 yard area.  What was funny was the dog proof traps all had the bait eaten out of them (most likely from mice) and one of them was covered with mud from raccoons touching it with muddy paws.  Even the log the trap is tied to was covered in mud.  They had been all over it during the night.
So, I was reading in the latest issue of Fur-Fish and Game magazine and there is an "I knew that" suggesting I cover the opening of the dog proof trap with a walnut to keep the mice from getting to the bait.  The raccoons will come along, smell the bait, knock the walnut off and go for it!  I'll take a sack full of walnuts out on the line with me when I go out next….not today because of all the snow we are getting!  (4 inches on the ground and more coming down)
So, without going back and reading what I have written about the number of rats we have caught on a daily basis, I'll just report to you our total right now.  With the 100 Bob caught last Fall in the freezer, and what we have caught so far this Spring, our total catch is 411.  Our goal is 500, so we should easily make that mark.
I was in hopes of setting a slew more traps today, but that isn't happening with the snow.  Heck, I doubt I'd be able to even find my traps.  It's going to have to warm up enough to melt the snow off my flags before I'll be able to find them.  I remember three years ago it snowed for two straight days and I worked like crazy to find my traps.  I even had to go back the week after I pulled them to find some I couldn't find the day I pulled from that line.  When the snow is heavy like this is today, it lays the toolies down that are holding the flags and then snows on top of it keeping it down.  Once it melts the toolies stand back up and reveals the flags.
So, today will be a stay at home day….I think I'll make something fun!
Bears Butt
March 3, 2015