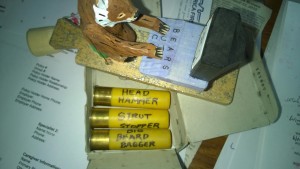 The turkeys won yesterday, but today is another day!  Head Hammer is going to take out a gobbler!
Weasel, Hot Spark and I are going back to try and intercept them.  Weasel posted another movie from his trail camera which showed them buggers about 20 yards from where I was sitting, so we know they like that meadow.  Rather than going back to my old blind, I'm going to once again set up where I did yesterday, in hopes they do something different than they did.  The little buggers had me going yesterday….the nerve….walking right past my other blind!  OOOOOOOOOOOOOOOOO!
Today also marks my day to "lax" out!  What is "lax" out?  Ducolax and Miralax.  For those of you who know what those two "lax" babies do, you know that tomorrow someone is going to see where my head is at!
More later!
Bears Butt
May 11, 2015
LATER:  Not much later, but later still!
The morning dawned beautifully!  Nice and crisp but not a cloud in the sky.  It was kind of an "off" morning in that the birds were not as vocal as they usually are.  Very few robins and crows and I only heard one rooster pheasant!  BUT….the gobbler was in his normal roosting area!  That was a nice sound to hear.  He only gobbled a couple of times before they all flew down and when that action started, it ended as quickly.  I'm not sure how many birds flew down, maybe 9 or 10, but I was busy getting my gun to my shoulder, they were landing right in front of me about 50 yards out!  My heart was pumping hard until I realized they had just landed on the other side of a small ravine that runs down through the middle of the meadow!  DANG!
I've read and seen first hand that when it comes to a turkey crossing something like a ravine, creek and even a fence line, they choose not to and this was not going to be any exception.  They were on the other side and working their way up the meadow on that side!
As soon as they disappeared from my site, I was up out of my blind and heading up the hill to cut them off.  I had to move fast to get in position and I literally flew up that hill.  In past climbs it took my breath away and caused a near heart attack….not this time!  I was at the top before I even knew it!  Then across the meadow I went to get setup for them to come walking into me.  I was ready!
Waiting is a tough thing when you know they are coming up slowly feeding their way along, but I was going to sit there all day if need be!  I had seen the big old gobbler that was with them and he was sporting about a 9 inch beard.  The fan tail and beard will look good on my wall!  I waited.  I waited.  I kept hoping I would hear the hens clucking and purring as they got closer, but I heard nothing.
Soon I heard Weasels peacock call and knew he and Hot Spark were ready to head for the truck!  The birds must have done something I didn't expect….well, I have to expect the birds will do something I don't expect them to do.  Sure enough, they had gone straight up a very steep open hill right after they disappeared from my site and not up the meadow like I thought they would.  As we stood there whispering our next move, we heard him gobble on top of the hill!  Egging us on!  And so we took the challenge and even though poor Hot Spark was having a difficult time maneuvering the slippery hill trail, she made it!
Nearing the truck Weasel whispered he would bet the birds came up over the top, down the short side of the hill to the fence we were standing by and followed the trail up the fence line.  He bet we would see the birds if we drove the truck up the road.  And that is what we did when we left our parking spot.  And sure as tootin!  There were the birds!  All gathered up and happy as larks!  The gobbler showing off his stuff to the hens as we approached.  I was out of the truck like a blowing piece of plastic bag!  Weasel kept driving slowly and the birds were standing there about 10 yards away!  I quickly loaded the gun and ran for the side of the road.  The birds did not like seeing me that close and took off running away up an open hill!  I snapped the safety off and put the bead on the gobbler, but he stayed in the cluster of hens and hit the top of the hill on a full gallop and then they all took wing and off they went!
Had he separated himself from the hens I would have shot!  Road hunting turkeys!  I can be done!  It isn't the romantic way of killing one, but at this point who is thinking about romance?
So, there you have another "almost" from the mighty hunters!
Now my mind is focusing on the dreaded "lax" and I don't mean "re-lax"!
Bears Butt