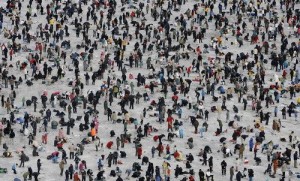 A big day ahead!  The annual fishing contest at Hyrum State Park in Hyrum, Utah.  They call this event "The Best Dam Fishing Contest"!  They have contests for both adults and youth fisherpeople with some great prizes and of course drawings during the day.  I heard that Camp Chef will be there as well, serving hot chocolate and assorted other cooked goodies!  I like cooked goodies!
There is one rule I don't see how they could possibly enforce….no fishing from an ice tent.  However, you can have an ice tent on the ice to get yourself warmed from the elements, but you are not allowed to fish while in it.  They might as well drop that stupid rule.
But, I will be leaving my tent home.  Mostly because it is heavy and I'll be by myself.
Weasel is going to join me until about noon and then he has to leave to pick up his family and go with friends to Hardware Ranch to see the elk.  Not me!  I will endure until the contest ends at 3!  Each contestant can register up to 3 fish.  They will measure each fish and total up the lengths.  The one with the longest length wins the big prize.  A tie will be broken by the total weight of the 3 fish.  I'm certain that stuffing the fish with sinkers will be the ultimate tie breaker.  Just saying.
So, I will try and take a few pictures of the event between pulling in giant trout, and will give you an update later on.
Bears Butt
January 24, 2015